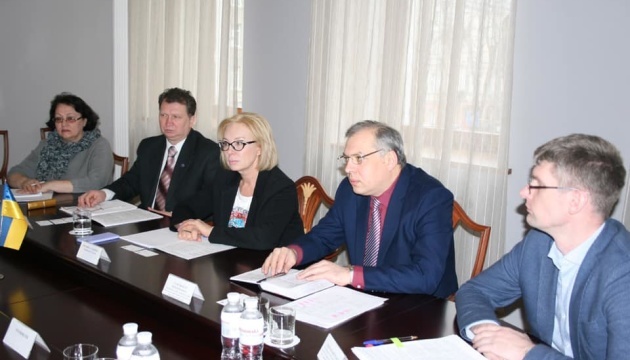 Denisova meets with head of OSCE Election Observation Mission to Ukraine
Ukraine's Verkhovna Rada Commissioner for Human Rights Liudmyla Denisova held a meeting with Tejler Peter, Head of OSCE/ODIHR Election Observation Mission to Presidential Election 2019 in Ukraine, and Marla Morry, a legal analyst of the Mission.
The Ombudsman wrote this on Facebook on March 11.
"Today [March 11] I met with Head of OSCE Election Observation Mission to Ukraine, Peter Tejler, and legal analyst of the Mission, Marla Morry. We discussed the issues of protecting election rights of Ukrainians during the presidential election in Ukraine," the report says.
In particular, Denisova wrote that they discussed the election rights of internally displaced persons and Ukrainian citizens residing in the temporarily occupied territories.
"With regard to the access for persons with disabilities to polling stations, some violations for their unhindered access to polling stations were recorded during our monitoring visits," Denisova wrote.
In addition, she paid special attention to the election rights of persons in places of detention.
Denisova added that during the meeting they agreed on further cooperation with representatives of the OSCE Mission.
iy