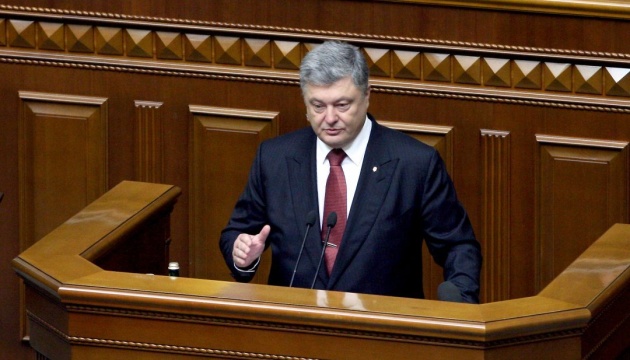 CEC publishes Poroshenko's election program
Incumbent Ukrainian President Petro Poroshenko, as a candidate for the second presidential term, plans to file an application for EU membership in 2023 and in the next five years make Ukraine a leader in the agricultural and IT sectors, a transport hub in Eastern Europe and one of the most visited European states.
This is stated in Poroshenko's election program entitled "A Big State of Free and Happy People," which has been published on the website of the Central Election Commission (CEC).
"Ukraine has the only way to preserve its independence - we must become a big European state of free and happy people," the document says.
In particular, the program mentions a promise made earlier by Poroshenko to file Ukraine's application for EU membership in 2023 and get and start implementing a NATO Membership Action Plan.
Poroshenko is convinced that Ukraine will join the EU and NATO as a regional leader.
He also says that over the next five years Ukraine should become the leader of the agricultural sector in Europe; one of the five new global IT sector leaders; the regional leader of industrial development; a transport hub in Eastern Europe, as well as one of the ten most visited countries in Europe under the motto "A fashionable country that opens the world."
"This is a path that will help overcome poverty and ensure the order, well-being and security of every Ukrainian," Poroshenko wrote in his program.
According to Poroshenko, the formula for Ukraine's success implies the implementation of an action plan based on the use of the strategic advantages of the Ukrainian state and based on the achievements of the previous five years.
On February 7, the CEC registered Poroshenko as a candidate for the post of head of state in the March 31 election.
Poroshenko announced his intention to run for the second presidential term on January 29. He submitted documents to the CEC on February 3. He is running for the presidency as a self-nominee.