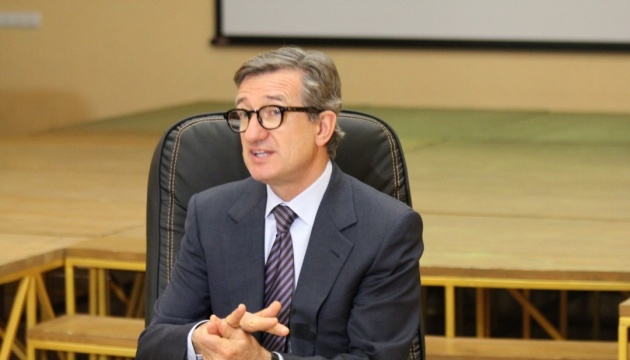 CEC registers Taruta as presidential candidate
Ukraine's Central Election Commission (CEC) has registered Osnova Party member and MP Serhiy Taruta as a candidate for the post of Ukraine's president.
The CEC made a respective decision at a meeting on Tuesday, an Ukrinform correspondent said.
"It is proposed to register as a candidate for president in the regular presidential election on March 31, 2019, Serhiy Oleksiyovych Taruta, born in 1955, who has a higher education, resides in the city of Mariupol in Donetsk region, a people's deputy, a member of the Osnova political party, nominated by the Osnova political party," CEC member Mykhailo Verbensky said.
Commission members unanimously supported a draft resolution on Taruta's registration as a presidential candidate.
Taruta has become the 23rd registered candidate for the post of Ukraine's president.
The other 22 registered presidential candidates include Ihor Shevchenko, Serhiy Kaplin, Valentyn Nalyvaichenko, Vitaliy Skotsyk, Andriy Sadovy, Vitaliy Kupriy, Yevhen Murayev, Anatoliy Hrytsenko, Hennadiy Balashov, Olha Bohomolets, Oleksandr Shevchenko, Roman Nasirov, Yuriy Boiko, Oleh Liashko, Arkadiy Kornatsky, Oleksandr Vilkul, Yulia Tymoshenko, Dmytro Dobrodomov, Oleksandr Moroz, Illia Kyva, Ruslan Koshulynsky, and Oleksandr Danyliuk.
The presidential election campaign began in Ukraine on December 31, 2018. The nomination of candidates by political parties or by self-nomination, as well as the submission of documents by candidates to the CEC, will last until February 3, 2019. Before submitting documents to the Central Election Commission, a candidate or a party that nominated him or her must make a deposit of UAH 2.5 million (about $90,000).
The registration of candidates for the presidency will last until February 8 inclusive.