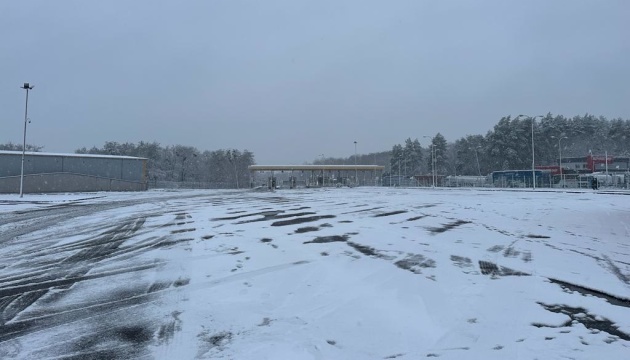 Due to Polish protests, only 350 cars cross Yahodyn checkpoint in three days
Due to the protests of Polish carriers, who have been blocking Ukrainian trucks from crossing the border for the second week, 317 trucks crossed the Yahodyn-Dorohusk border crossing point in Volyn in three days instead of 1,800 in each direction.
Volyn customs reported this, Ukrinform saw.
"During this weekend, 1,800 vehicles in each direction should have crossed the Yahodyn-Dorohusk checkpoint in six shifts, according to the memorandum approved in June last year. However, due to the ongoing protest of Polish carriers, 317 trucks have been cleared for entry into Ukraine and 47 for departure from the country," the statement said.
The customs office noted that compared to the optimal number of vehicles that can cross the border through this road crossing, only 1/10th of the memorandum on the capacity of Ukrainian-Polish checkpoints was actually used.
Given the capacity of Yahodyn, which was built in 2012, 4,800 trucks, 12,000 cars, and 300 buses could use it in three days. In total, 34,000 passengers could cross the border.
As Ukrinform reported, on November 6, the announced protest of Polish carriers on the Polish-Ukrainian border began. The carriers' demands to the Polish government include the return of the practice of permits for Ukrainian carriers; tightening of ECMT (European Conference of Ministers of Transport) transportation rules for foreign carriers; the inability to register companies in Poland if their financial activities are not in the EU; a separate queue for cars with EU license plates; a separate queue at all borders for empty trucks; and access to the Ukrainian Shliakh system.
Negotiations at the state level have not yet yielded any results. As of the morning of Monday, November 20, about 3,000 Ukrainian trucks were stuck in lines at the border.