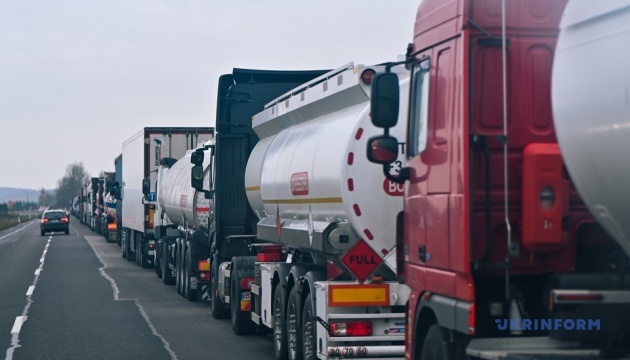 Poles don't let fuel tankers, humanitarian aid into Ukraine
Polish border guards did not allow trucks with humanitarian aid from the Red Cross to enter Ukraine. Tanks with oil products, gas, and other hazardous substances are standing in crowded parking lots and roadsides.
An Ukrinform correspondent reports.
"We currently have 24 tractor trailers and eight fuel tanks at the border. This is most of the company's trucks. We carry fuel in transit from Lithuania. Yesterday we talked to the Polish police in Korczowa, and they understand the danger because the parking lot there is very overloaded with various special equipment with gasoline, gas, and various hazardous substances. It could be an emergency if it explodes. The Polish police understand, but they shrug their shoulders and say they have no influence on it," Taras Svitlyk, a representative of a Lviv-based transportation company, said.
According to him, large oil traders in Ukraine have stocks, so Ukrainians will not feel a shortage of fuel now.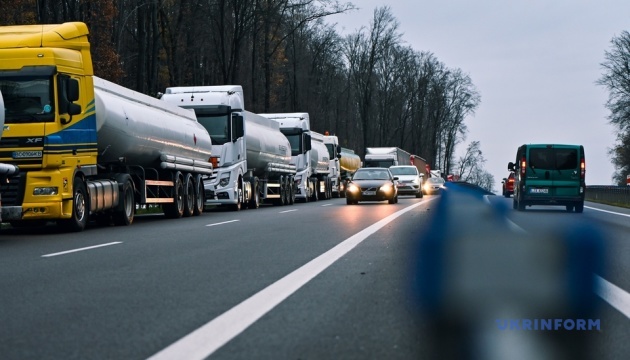 "However, driving along the Polish T94 road, we saw a large number of UPG, WOG, SOCAR tanks. Their reserves may also be exhausted as we do not know how long this will last," Svitlyk added.
Speaking with Serhiy Derkach, Deputy Minister for Communities, Territories and Infrastructure Development of Ukraine, Polish border guards at the Korczowa-Krakivets and Hrebenne-Rava-Ruska checkpoints assured that they primarily let through flammable trucks, trucks with perishable food and humanitarian aid for Ukraine, but Ukrainian drivers claim that this is not the case.
Two trucks from Ivano-Frankivsk carrying humanitarian aid from the Netherlands were sent to "standstill" by border guards at the Korczova-Krakivets checkpoint and put in a "live" queue. They have been waiting for four days to deliver the medical equipment to Kropyvnytskyi and Lubny.
"We are bringing beds, wheelchairs, medical equipment, mattresses, blankets, and disinfectants to the hospital. The police told us to drive ahead of the queue. And at the checkpoint itself, we were told to turn around, check in and look for parking. But there was no parking anywhere. So we found one near Yaroslav, 40 kilometers from the border, and we are waiting," Vasyl Boyko, the truck driver, said.
According to Derkach, as of November 20, more than three thousand trucks are waiting to cross the border at the checkpoints between Poland and Ukraine. In particular, 1,500 trucks at Krakivets-Korczowa, 1,200 trucks at Dorohusk-Yahodyn, and more than 500 trucks at Rava-Ruska-Hrebenne.
As Ukrinform reported, on November 6, Polish carriers began a blockade of truck traffic near the three largest checkpoints on the border with Ukraine. The demands to the Polish government include the return of the practice of permits for Ukrainian carriers; toughening of the ECMT (European Conference of Ministers of Transport) transportation rules for foreigners; the inability to register a company in Poland if its financial activities are not in the EU; a separate queue for cars with EU license plates; a separate queue at all borders for empty trucks and access to the Ukrainian Shliakh system.