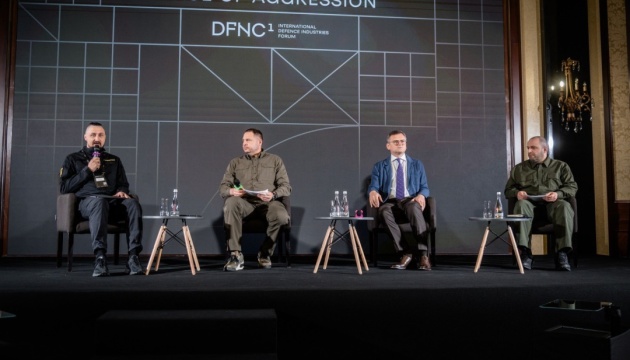 FM Kuleba comments on results of DFNC1: Numbers exceed all expectations
The First Defense Industries Forum (DFNC1) has opened a new era in the development of Ukraine's defense industry, and the numbers achieved have exceeded all expectations.
The relevant statement was made by Ukrainian Foreign Affairs Minister Dmytro Kuleba on Instagram, following the event, an Ukrinform correspondent reports.
"Now, we are not just bringing foreign weapons to Ukraine. We are integrating Ukraine's defense industry into the NATO defense industry. We are establishing mutually beneficial partnerships and involving advanced technologies to produce the most powerful weapons in the required quantity on our own. To ensure that today at the front a soldier has everything they need to protect themselves and destroy the enemy. To ensure that, after the victory, the weapons created by Ukraine together with its partners would be the most competitive in the world," Kuleba wrote.
The Ukrainian minister mentioned that the numbers achieved had exceeded all expectations.
"I am grateful to 252 companies from more than 30 countries of Europe, North America, Asia and Australia, who arrived in Kyiv to participate in our Defense Industries Forum," Kuleba noted.
In his words, in order to organize this forum, Ukraine's Foreign Affairs Ministry combined efforts with the Strategic Industries Ministry and the Defense Ministry, and they were working around the clock to bring together as many defense companies as possible, to ensure that the Governments of the countries they represent provided comprehensive support for joint projects with Ukraine, and to involve NATO and the EU in this process.
"This was one of the key theses during the international contacts of the President, Andriy Yermak, Denys Shmyhal, Oleksii Reznikov at first, and then Rustem Umerov, and Oleksandr Kamyshin. Everyone had been working towards the result. And we succeeded," Kuleba concluded.
A reminder that the First Defense Industries Forum (DFNC1) took place in Kyiv on September 29, 2023.
Photo: Dmytro Kuleba, Instagram