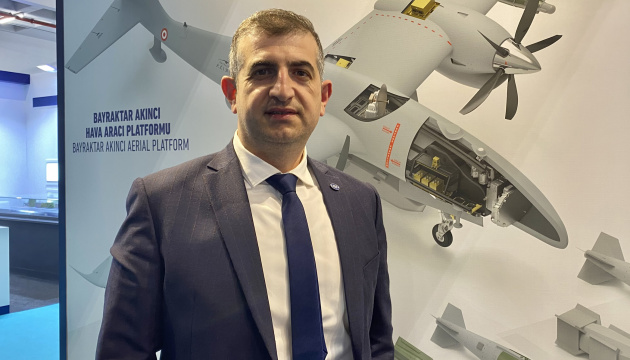 Baykar investing $100M in Ukraine
Turkey's Baykar, the manufacturer of Bayraktar TB2 unmanned combat aerial vehicles, is investing $100 million in three projects in Ukraine, among them the construction of a drone production plant that will be completed in one-and-a-half years.
Haluk Bayraktar, CEO of Baykar, said this at the First International Defense Industries Forum in Kyiv, according to an Ukrinform correspondent.
"We have three main investments in Ukraine. One of them is a factory. Then we have a service center and also we have a headquarters office in here. […] This investment, which is around $100 million, has already started. The construction has already started. It will take about one-and-a-half years to finish it. We are targeting minimum 300 people to work here. And we have ongoing cooperation," Bayraktar said.
He also noted that this production will be self-sufficient, ecological and mutually beneficial, since Ukraine has unique technologies for the production of engines, and Turkey has drones on which these engines are installed.
"We also have some challenges. The supply chain, sourcing and development of the human capital because of the effects of the war, and regulatory environment especially the regulations that will support these investments," Bayraktar said.
According to him, the current war has become a war of unmanned aerial vehicles, and Ukraine has some advantages here, including due to the use of various types of aircraft, although it is difficult to implement. Feedback from the military on the use of technology is especially important under such conditions. That is why the Bayraktars used in Ukraine were equipped with a number of unique systems.
The CEO of Baykar also expressed support for Ukraine.
"We are not here to maximize our revenues or profits. We are here to maximize our support for you. We respect your fight for your freedom and independence, to keep your sovereignty," Bayraktar said.
He said that all donations from Baykar, as well as from Ukraine and Poland, had been used, in particular, for the purchase of radar systems and they had already detected thousands of targets and brought significant results on the battlefield.
"The total value of these donations is up to $106 million," Bayraktar said.
He added that Baykar had also implemented a number of humanitarian initiatives, including sending humanitarian cargo and organizing a camp for Ukrainian children.