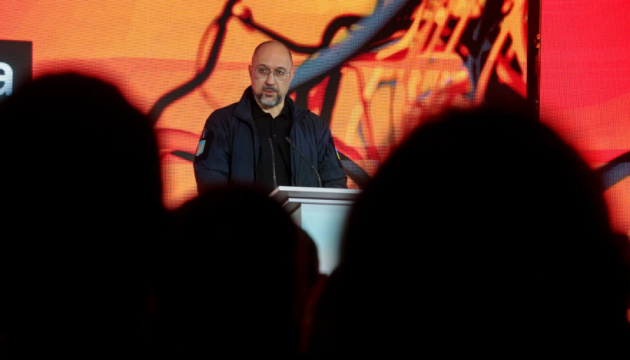 Ukraine implements energy infrastructure protection projects that world has not seen before – PM
Ukrainian Prime Minister Denys Shmyhal has outlined the key factors that ensure the stability of the country's energy sector, noting that Ukraine is now implementing the energy infrastructure protection projects that no one in the world has ever done before.
The relevant statement was made by the Government portal, referring to a speech by Ukrainian Prime Minister Denys Shmyhal at the Future of Ukrainian Energy Forum, an Ukrinform correspondent reports.
According to the Prime Minister, the first factor is Ukraine's air defenses.
"Today, Ukraine has a much larger number and capacity of air defense systems. […] Our air defense system has become even more comprehensive and experienced. We continue to work on its development. By the winter, it will become even stronger, more capable and more effective," Shmyhal said.
The second factor is Russia's reduced missile stocks. Meanwhile, the aggressor's ability to produce missiles is much lower than the enemy would like it to be.
The third factor is a large-scale repair campaign conducted across energy facilities.
"We have seven nuclear power units in operation today, and two more are completing the repair programme. Thermal power plant units and hydroelectric power units will be in operation by early winter. As of today, we have also repaired more than 80% of the main power grids," Shmyhal told.
The fourth factor is the protection of energy facilities. According to Shmyhal, Ukraine is now running such protection projects that no one in the world has ever done before. Decentralization efforts in Ukraine's energy sector also continue.
The fifth factor is systemic cooperation with international partners. Shmyhal mentioned that Ukraine had received USD 2.3 billion to restore and protect energy facilities, and expanded the capacity of electricity imports from the EU more than twofold, from 500 megawatts to 1,200 megawatts.
The sixth factor is sufficient energy resources and their increasing production volumes.
"For the first time, as promised by Naftogaz, we will get through the winter period using our domestic gas. […] We have 15 billion cubic meters of natural gas in storage facilities, which will lay a reliable basis for passing through the heating season," Shmyhal stressed.
A reminder that Ukrenergo's management stated earlier that, despite potential Russian attacks on energy facilities this winter, Ukraine's energy system will not break and will continue operation.
Photo: Government portal