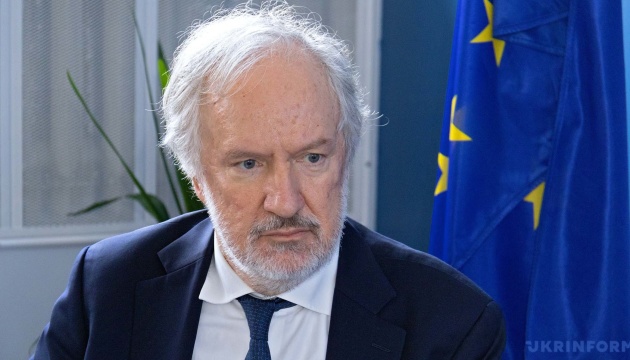 EU hands over 4,700 generators, 2,500 transformers to Ukraine - EC representative
Since the beginning of Russia's full-scale war, the EU has provided Ukraine with more than 4,700 generators and 2,500 transformers.
Andreas Papaconstantinou, Director for Neighbourhood and Middle East with the Directorate General for European Civil Protection and Humanitarian Aid Operations (DG ECHO) at the European Commission (EC), stated this in an interview with Ukrinform.
According to him, the EU strongly condemns Russia's indiscriminate attacks on civilians and civilian infrastructure, including energy facilities in Ukraine. "We urge Russia to immediately cease these systematic missile strikes."
In response to the request of the Ukrainian authorities, the EU has introduced a comprehensive system of energy support in emergency situations. After the attacks began, efforts and investments were increased to strengthen the capacity to help Ukraine, he noted.
"Since the beginning of the war, the EU has delivered a large number of power generators and transformers. More than 4,700 generators have been donated, as well as 2,500 transformers. Eighteen humanitarian organizations, who are our humanitarian partners, have donated more than 5,000 generators," the EC official stated.
A new element of assistance is the ability to distribute donations from the private sector. Papaconstantinou cited an example when 169 generators came from an Australian charity organization through the EU.
In addition, according to him, there is a tendency for third countries to aid precisely because of the EU's capabilities.
Currently, the assistance is aimed at preparing for winter, the EC official emphasized.
"The EU is going to provide assistance, as we did last year, to people in need, including the remote and hard-to-reach, or frontline communities, areas affected by the explosion of the Kakhovka HPP dam, and areas that are hosting a large number of internally displaced persons," he added.
The EU is also taking care of the rehabilitation of victims and major repairs of damaged houses, apartments and schools, temporary assistance centers and accommodation centers, in particular in the area affected by the floods after the Kakhovka dam was blown up. Emergency repair supplies for shelters are being provided, as well as financial assistance to cover heating and energy needs, Papaconstantinou said.
As Ukrinform reported, on September 21, for the first time in six months, Russia attacked an energy facility in Rivne region. This led to blackouts in five regions.