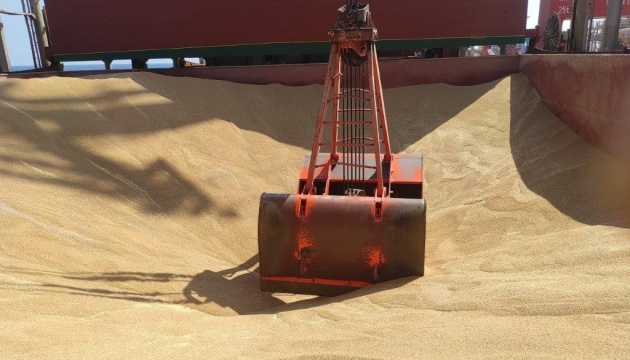 Ukraine ready to change grain export rules as regards five EU countries
The government approved a new procedure for the export of corn, rapeseed, sunflower, and wheat, according to which it a license is required from the Ministry of Economy with the approval of the Ministry of Agrarian Policy in order to supply these crops to five EU member states bordering Ukraine.
This was stated by the Minister of Agrarian Policy and Food of Ukraine, Mykola Solskyi, who spoke via videoconference at the meeting of the European Parliament's Agrarian Committee, Ukrinform reforms with reference to the ministry's press service.
"We believe that this action scheme will satisfy all parties. And that even those three countries that are currently opposing Ukrainian agricultural exports will also join the plan. Because we all have one goal, which is victory in this terrible war. And to this end, there must be mutual understanding and mutual support between us," said Solskyi.
Solskyi praised as "constructive" the long-awaited decision of the European Commission to lift restrictions on the export of Ukrainian agricultural products with the introduction of additional control measures, adding that Ukraine is grateful for such a position.
The head of the Ministry of Agrarian Policy noted that within 72 hours, Ukraine presented to the European Commission an action plan for export control. According to Solskyi, the Ukrainian proposal should defuse tensions.
"According to our action plan, Ukraine will monitor and regulate exports as follows. We agree with the European Commission and the importing countries on the necessary list and volume of agricultural products within the four crops, and they, in turn, determine whether they are ready to accept these crops, when and in what quantities. Only after that do we issue permits to our enterprises to export certain products. That is, Ukraine controls its exports and coordinates them with the receiving countries," the minister emphasized.
As Ukrinform reported earlier, in May 2023 the European Commission banned the import of wheat, corn, rapeseed, and sunflower from Ukraine to Bulgaria, Hungary, Poland, Slovakia, and Romania at the insistence of the said countries. On June 5, the ban was extended until September 15, 2023.
The European Commission announced on September 15 that the European Union will not extend temporary restrictions on Ukrainian grain. After that, Poland, Hungary, and Slovakia announced their decision to unilaterally block the import of Ukrainian agricultural products.
On September 18, Ukraine submitted requirements for holding consultations with Slovakia, Poland, and Hungary within the framework of the WTO in accordance with the Agreement on Rules and Procedures for the Settlement of Disputes of the Agreement Establishing the World Trade Organization.
The Prime Minister of Ukraine, Denys Shmyhal, later said that Ukraine may ban the import of certain categories of goods from countries that fail to lift the embargo.
Photo: Ministry of Agrarian Policy