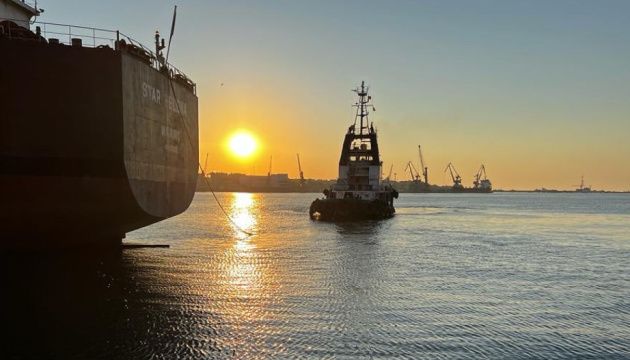 Vessel with wheat leaves Chornomorsk port - Kubrakov
The vessel RESILIENT AFRICA with 3,000 tonnes of wheat on board has left the Ukrainian port of Chornomorsk and is heading towards the Bosphorus.
According to Ukrinform, Oleksandr Kubrakov, Deputy Prime Minister for Restoration - Minister for Communities, Territories and Infrastructure Development of Ukraine reported this.
"The vessel RESILIENT AFRICA with 3,000 tonnes of wheat has left the port of Chornomorsk and is heading towards Bosphorus. This is the first of two vessels that entered the port of Chornomorsk last week through a temporary corridor for civilian vessels established by the Ukrainian Navy," he wrote.
Kubrakov noted that the second vessel is in the port loading Ukrainian wheat for Egypt.
The vessels are flying the flags of Liberia and Palau. Their crew consists of citizens of Türkiye, Azerbaijan, Egypt, and Ukraine.
As Ukrinform reported, the agreement on the extension of the Initiative for the Safe Transportation of Agricultural Products through the Black Sea, signed by Ukraine, the United Nations, and Türkiye in July 2022, expired on July 18, 2023. A similar agreement was signed by the UN, Türkiye, and Russia.
On July 17, 2023, the Russian side sent its objections to the extension of the grain agreement to Türkiye, Ukraine, and the UN and de facto terminated it.
On August 10, Ukraine announced new temporary routes for merchant ships sailing to/from Ukraine's Black Sea ports. These routes are primarily used to allow civilian vessels that have been in the Ukrainian ports of Chornomorsk, Odesa, and Pivdennyi since the beginning of Russia's full-scale invasion on February 24, 2022, to leave.
On September 16, Oleksandr Kubrakov said that after using a temporary corridor to allow the vessels blocked by Russian aggression to leave, bulk carriers Resilient Africa and Aroyat confirmed their readiness to use the route to the entrance to the port of Chornomorsk to load almost 20,000 tonnes of wheat for African and Asian countries.