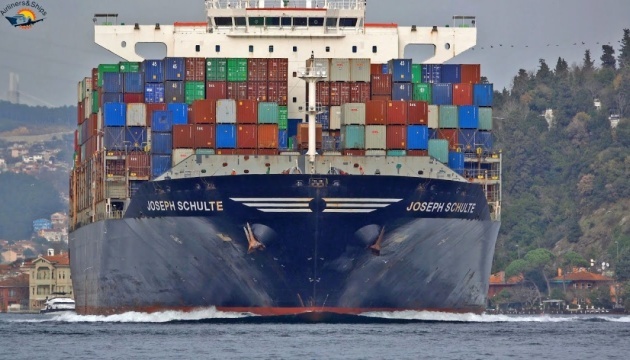 German vessel stranded in Odesa for 1.5 years reaches int'l waters
A German cargo ship, which had been blocked in the port of Odesa since Russia's war, crossed Ukrainian waters without any problems.
The ARD TV channel reported this with reference to the Hamburg-based owner Bernhard Schulte Shipmanagement (BSM), Ukrinform saw.
A few hours after leaving the southern Ukrainian port of Odesa on Wednesday, the German cargo liner Joseph Schulte, flying the Hong Kong flag, successfully crossed the Ukrainian part of the Black Sea. The spokesperson confirmed that the ship had left Ukrainian waters.
The company thanked all parties involved for making the safe passage of the cargo ship possible. The vessel, which is also partially owned by a Chinese bank, is heading to Istanbul. According to Ukrainian sources, it is carrying more than 2,100 containers with about 30,000 tonnes of cargo. It was the first ship to leave the port of Odesa through the "humanitarian corridor". It is designed to allow ships stuck in the port of Odesa to cross the Black Sea and reach the shores of foreign countries. The passage through the "corridor" is at one's own risk.
German experts believe that Russia did not attempt to attack the ship, not least because it belongs to Germany, which could have reacted sharply and made new decisions to supply Ukraine with additional weapons.