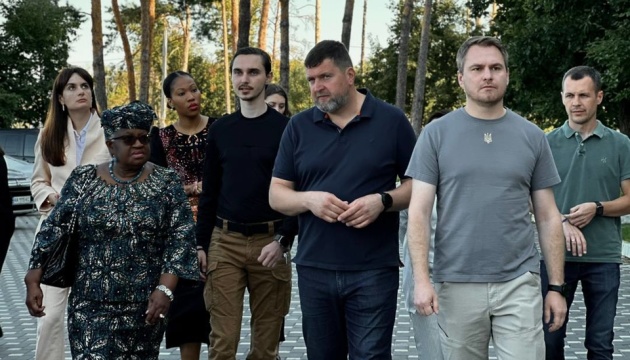 WTO director general visits Irpin
Director General of the World Trade Organization (WTO) Ngozi Okonjo-Iweala visited the town of Irpin, Kyiv region.
Irpin Mayor Oleksandr Markushyn announced this on Telegram, Ukrinform reports.
According to the mayor, he showed the WTO head the aftermath of Russians' crimes in the town.
"The last time Ngozi Okonjo-Iweala visited Ukraine was 15 years ago, so today she was both impressed by our development over the time and by the terrible destruction that the Russians inflicted on us. She informed that the World Trade Organization will join the reconstruction of our country. Financial assistance will be provided at the state level," Markushyn said.
He informed about one more good news from the WTO head: "The World Trade Organization is launching programmes to support small and medium-sized businesses in Ukraine in cooperation with the Ministry of Social Policy."
For his part, Markushyn "said that before the full-scale invasion, there were 12,000 entrepreneurs per 100,000 population in Irpin, to which Ngozi Okonjo-Iweala emphasized that we should first take advantage of this programme."
"So we will prepare the necessary requests and seek help from the Ministry of Social Policy in order to return and improve these indicators in Irpin community," said the mayor.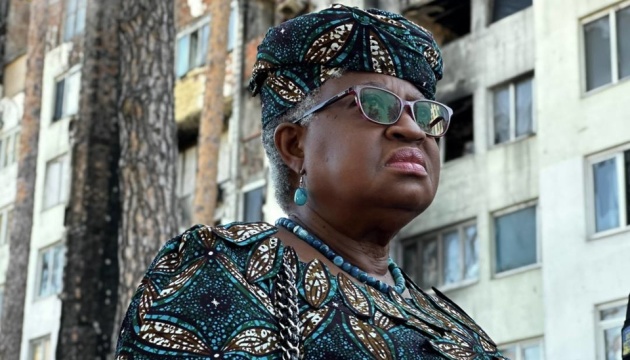 He also said that Ngozi Okonjo-Iweala was very interested in the gender statistics among business owners in Irpin. "I said that even now, when many women with children have temporarily left Ukraine, this indicator remains at a high level. And in general, in Kyiv region, 50% of the owners of newly created enterprises are women," the mayor emphasized.
As reported, WTO Director General Ngozi Okonjo-Iweala arrived in Ukraine on August 17.