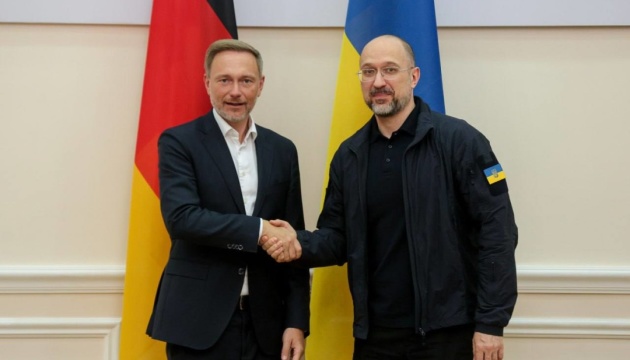 Investments for reconstruction: Shmyhal meets with German finance minister Lindner
Prime Minister of Ukraine Denys Shmyhal discussed the prospects of investment cooperation for Ukraine's reconstruction with German Federal Finance Minister Christian Lindner.
"An important meeting with German Finance Minister Christian Lindner who arrived on a visit to Ukraine. We discussed the prospects of cooperation between Ukraine and the German Credit Institute for Reconstruction (KfW). We implement five joint investment projects worth EUR 247 million, we prepare three more worth EUR 73 million," the Head of Government posted on Telegram.
He thanked the German government for its security, financial support and sanctions imposed and noted that Ukraine had already received more than EUR 1.5 billion in macro-financial assistance from Germany, mostly in the form of grants.
"We are grateful for the support for the IMF arrangement, for Germany's role in EU's Ukraine Facility program, for the promotion of European integration," said the Prime Minister.
He noted that Ukraine expected German business to participate in the reconstruction.
During the meeting, Shmyhal also emphasized the need to strengthen sanctions against the Russian Federation and to confiscate Russian assets which would be the main source of funding for reconstruction.
Lindner stressed that Germany would continue to support Ukraine and that cooperation projects would have a long-term nature.
As reported, Germany recently provided a security assistance package to Ukraine which included, in particular, Patriot air defense systems, drones, Bandvagn 206 tracked all-terrain vehicles, and more.