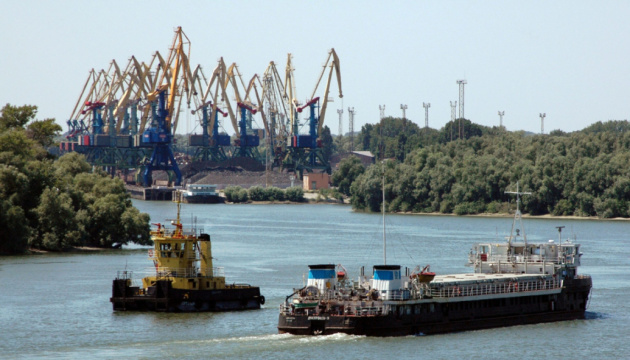 Ukraine discusses with int'l partners increasing exports via the Danube
Within the framework of the Ukraine-USA-European Commission-Romania-Moldova meeting, the Deputy Prime Minister for Reconstruction, Minister of Community Development, Territories and Infrastructure of Ukraine Oleksandr Kubrakov discussed ways to increase the volume of Ukrainian exports, including through the Danube.
The minister reported this on Facebook, Ukrinform saw.
"Today in Galati, Romania, within the framework of the Ukraine-USA-European Commission-Romania-Moldova meeting we worked on ways to increase Ukrainian exports. The Romanian part of the Danube, in conditions of limited navigation, is important for reorienting our exports," the comment reads.
According to Kubrakov, the development of navigation along the Danube remains among the priority issues, where key areas include speeding up the passage of ships through the canals, increasing the throughput capacity on the Sulina Canal, and organizing additional locations for raid transshipments outside the Romanian port of Constanta.
Work is also underway to include the Ukrainian part of the Danube in the maps of the Trans-European Network of Inland Navigation Routes (TEN-T), which will contribute to the full-fledged operation of businesses on the market of Ukrainian Danube transportation.
In addition, Ukraine, together with the Romanian side, is working to launch full freight transportation at the Krasnoilsk - Vicovu de Sus and Dyakivtsi - Rakovec road checkpoints. There are also plans to increase the throughput capacity of Porubne — Siret by at least 20% and open two more checkpoints.
"All our actions are aimed at achieving one goal – to provide as many opportunities as possible for Ukrainian exporters. From this, both the defense capability and the economy will win," Kubrakov added.
As reported earlier, Romania is working on finding new ways to transport Ukrainian grain after Moscow suspended participation in the Black Sea Grain Initiative and has been shelling Ukraine's port infrastructure in southern Ukraine.