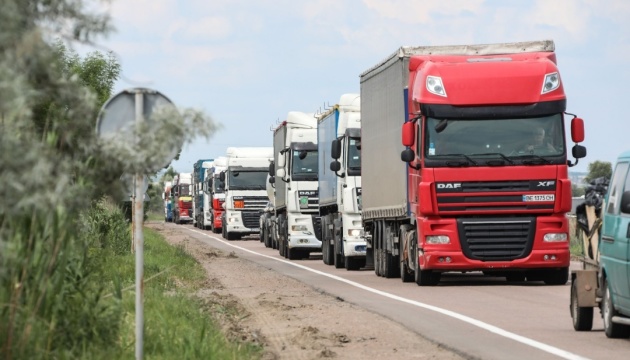 Ukrainian farmers to block Polish trucks on border in "mirror move"
Ukrainian farmers declare their readiness to block the entry of Polish trucks into the territory of Ukraine from June 10.
This was reported by the press service of the All-Ukrainian Agrarian Council, Ukrinform saw.
The All-Ukrainian Agrarian Council and Association of Milk Producers announced their "intention to hold a strike in response to the protest started by Polish farmers against the transit of domestic agricultural products through the territory of Poland."
"As a sign of protest against the actions of Polish agricultural producers, who started a strike and blocked the "Dorohusk-Yahodyn" crossing point for cargo trucks carrying Ukrainian grain, Ukrainian agri-producers decided to act in a mirror manner," the report says.
Agricultural companies are going to block the movement of Polish trucks through four international checkpoints on the border with Poland: "Dorohusk - Yahodyn", "Korczowa-Krakovets"; " Khrebenne-Rava-Ruska" and "Shehini-Medika".
"The campaign will start on June 10 at 10:00 and will last until midnight on June 14," the statement says.
The move is explained by the "categorical disagreement of Ukrainian farmers with the actions of the Polish side, which unilaterally, in violation of EU trade rules and the European Commission's decision regarding the resumption of transit of Ukrainian agri-products, continue to physically block trucks crossing from Ukraine into Poland."
As reported by Ukrinform, as of June 9, the movement of trucks through the checkpoint "Yahodyn - Dorohusk" was blocked due to a strike by Polish farmers. That's according to the State Border Guard Service of Ukraine.
In May 2023, the European Commission banned the import of wheat, corn, rapeseed, and sunflower from Ukraine to Bulgaria, Hungary, Poland, Slovakia. and Romania. On June 5, the ban was extended until September 15, 2023. The reason for the move was farmers' protests and the need to prevent market disruptions and damage to producers who are suffering from low prices against the backdrop of increased grain exports from Ukraine within the framework of the EU Initiative on Autonomous Trade Measures and "Solidarity Lanes".
Poland suspended the transit of Ukrainian agricultural products through its territory before resuming it on April 21.