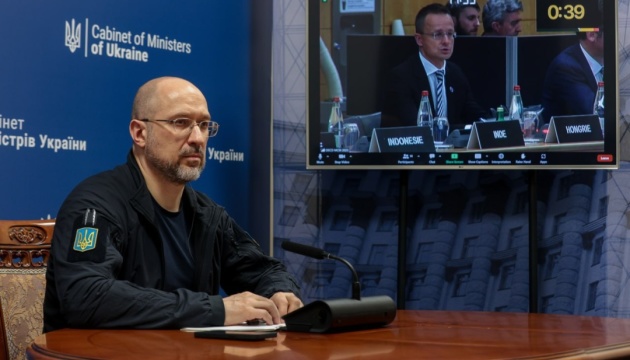 Ukraine sends note to European Commission over Rosatom project in Hungary - Shmyhal
Ukraine has sent a note to the European Commission over possible intensification of nuclear cooperation with Russia.
Prime Minister Denys Shmyhal wrote this on Telegram, Ukrinform reports.
"Rosatom is part of Putin's regime, which supports terrorist activities and endangers nuclear facilities. We expect that the preliminary decision on Rosatom's implementation of the project to build nuclear reactors in Hungary will be revised," the head of government said.
According to Shmyhal, he raised this issue at a session dedicated to Ukraine as part of the meeting of the OECD Council at Ministerial Level.
"Amid the disaster at the Kakhovka HPP and the occupation of the Zaporizhzhia NPP, such steps look surreal," Shmyhal stressed.
The Prime Minister is convinced that sanctions against Russia should be strengthened, in particular in the nuclear industry.
"We must do everything to make business as usual with a terrorist country impossible and no longer support the Russian war machine," he said.
As reported by Ukrinform, Hungary got the European Commission's approval to amend the contract for the construction of two power units of Paks II nuclear power plant concluded with Rosatom.
Ukraine at all levels calls on international partners to strengthen sanctions against the Russian Federation in order to weaken the Russian war machine.
On June 6, the Russian forces blew up the Kakhovka HPP. As a result of detonation of the engine room from the inside, the station was completely destroyed. About 80 settlements are now flooded, the population is being evacuated.
Photo: Denys Shmyhal, Telegram