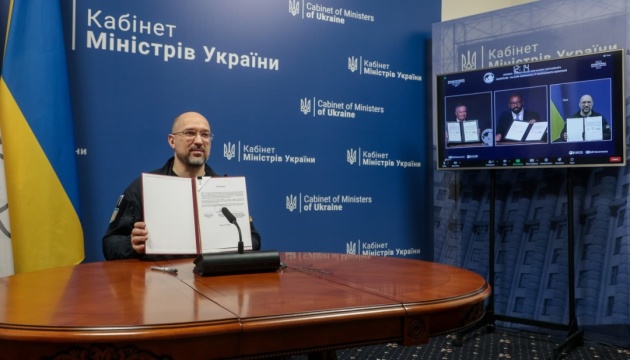 Shmyhal: Program for Ukraine's accession to OECD launched
Prime Minister Denys Shmyhal together with Secretary-General of the Organisation for Economic Co-operation and Development (OECD) Mathias Cormann and UK Foreign Secretary James Cleverly launched the OECD Program for Ukraine within the framework of the initial dialogue on joining the Organization.
"The program will support reforms, reconstruction and recovery of Ukraine, and its implementation will pave the way to the Roadmap for membership in the 'club of successful countries'. Over the past six months, we have made significant progress in deepening cooperation with the OECD. In February, Ukraine joined the OECD working group on bribery, and in March, the Organization's Liaison Office opened in Kyiv," the Head of Government posted on Telegram.
According to him, our country expects to join the OECD as a full-fledged member in the foreseeable future. After all, this means new investment projects, new foreign companies in the Ukrainian market, and better standards of living.
"I am convinced that fruitful cooperation between Ukraine and the OECD will make a significant contribution to the transformation of our country. I am grateful to the partners for their unwavering support," the Prime Minister emphasized.
As reported, on July 5 last year, Ukraine submitted an application to join the Organisation for Economic Co-operation and Development. Prime Minister Denys Shmyhal personally handed it over to OECD Secretary-General Mathias Cormann during his trip to Switzerland for a conference in the city of Lugano.
The OECD's approach is based on several principles: Ukraine's leadership in the recovery process, cooperation, exchange of experience, and financial management. The main goal is to increase Ukrainian competitiveness, stabilize the economy, and restore cities.
Photo: Denis Shmyhal / Facebook