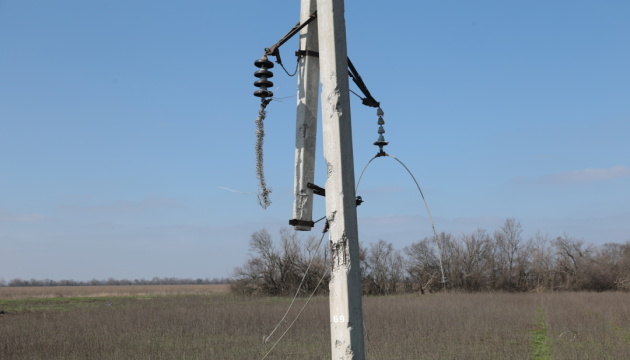 Russian strikes leave six regions in partial blackout
In Donetsk region, power supplies were cut off to 34 settlements due to ongoing hostilities, while some household consumers across five more regions remain without electricity due to the previous strikes by Russian invasion forces.
That's according to the Ministry of Energy, Ukrinform reports.
Zaporizhzhia, Sumy, Kharkiv, Kherson, and Chernihiv regions are partially de-energized due to the latest strikes, the ministry noted.
Repair crews are working to restore supplies in areas where the security situation allows such works.
Also, bad weather affected power supplies to 46 settlements in Kyiv region, 11 of which are in total blackout. In the neighboring Chernihiv region, 45 settlements remain without electricity. Restoration work is ongoing.
In Kyiv, 36,000 households were de-energized due to technological disruptions, including those caused by previous strikes. As of now, all issues with supplies have been resolved.
Electricity supply was restored to a total of over 64,000 consumers, mostly in Kyiv, Donetsk, and Kharkiv regions.
"Power generation and consumption remain stable and controlled. The electricity generated is sufficient to cover consumer demand. There is no deficit in the energy system," Ministry noted.
According to the ministry's data, the volume of natural gas accumulated in storages increased by almost 27 million cubic meters in the past 24 hours, reaching 9.6 billion cubic meters.
As Ukrinform reported, about 70% of Ukraine's energy facilities affected by Russian aggression have been restored.