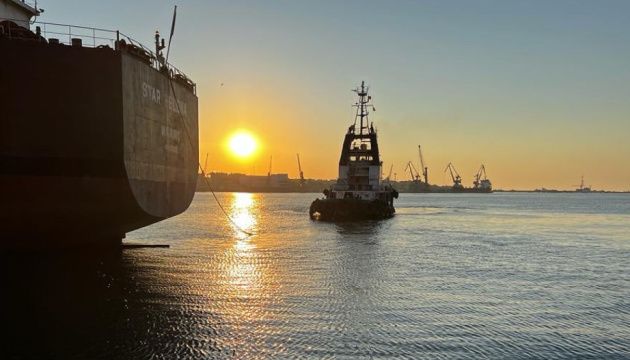 Russia blocks grain corridor again
Russia has refused to register and inspect ships sailing through the grain corridor to enter Ukrainian seaports.
According to Ukrinform, the Ministry for Communities, Territories and Infrastructure Development of Ukraine reported this on Facebook.
"Russia has once again stopped the grain initiative by refusing to register ships for entry and conduct inspections. This approach is completely contrary to the terms of the current agreement," the statement said.
The ministry emphasizes that Russia's destructive policy makes it impossible to draw up an inspection plan in accordance with the joint coordination center's procedures. The latter provide for daily approval of the inspection plan by all parties.
As of May 8, 2023, 90 vessels are awaiting inspection in Turkish territorial waters, of which 62 are vessels to be loaded. Inspections of both the inbound and outbound fleet have been suspended.
"Ukraine categorically rejects Russia's attempts to stop the registration and inspection of the incoming fleet, which should take place in view of the initiative. We are waiting for the position of our partners, the UN and Türkiye," the Ministry of Infrastructure emphasizes.
As Ukrinform reported, on March 18, 2023, Ukraine, the United Nations, and Türkiye agreed to extend the Initiative for the Safe Transportation of Agricultural Products through the Black Sea. According to Oleksandr Kubrakov, Ukraine's Deputy Prime Minister for Reconstruction - Minister for Communities, Territories and Infrastructure Development, the agreement was extended for 120 days.
In April 2023, the Russian side blocked the grain corridor three times. Exports of Ukrainian agricultural products via the grain corridor in April amounted to less than 3 million tonnes.