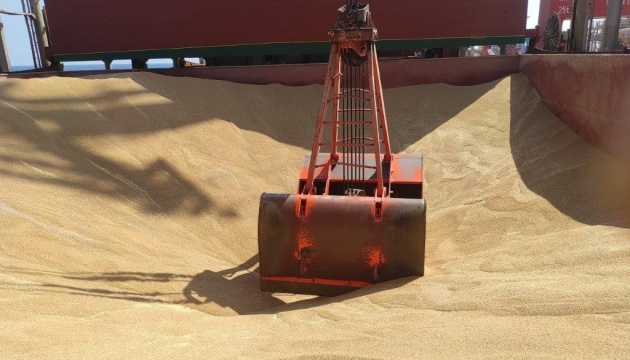 Ukraine exports over 32M tonnes of grain, oilseeds through Solidarity Lanes
From April 2022 to March 2023, Ukraine exported more than 32 million tonnes of grain and oilseeds via the Solidarity Lanes, land routes going through the territory of European Union member states.
That's according to Deputy Minister of Agrarian Policy and Food Markiyan Dmytrasevych of Ukraine, who spoke at a meeting of the European Parliament's Agrarian Committee in Brussels, Ukrinform reports with reference to the press service of the Ministry of Agrarian Policy.
"We understand that over the past year, the heavy load from the export of Ukrainian agricultural products has also affected our Western neighbors. It is critical for us that the farmers of neighboring countries continue to operate in comfortable conditions as much as possible, but it should be understood that such a situation also has a positive effect on their markets," he said.
Dmytrasevych added that, as a result of the increasing exports of Ukrainian grain, the price of grain on the markets of other countries has become more competitive, more jobs have been created there, while the amount of taxes paid has also gone up.
He noted that, thanks to the joint efforts of the EU and member states neighboring Ukraine, Ukraine achieve great logistical success through Solidarity Lanes.
"We believe negotiations with our neighboring countries, our friends, who provide us with incredible support, is the main way for finding compromise solutions," deputy minister emphasized.
As reported earlier, Poland, Hungary, Slovakia, and Bulgaria introduced a temporary ban on the import of grain and other types of agricultural products from Ukraine. Poland also suspended the transit of Ukrainian agricultural products through its territory, before resuming it on April 21.
Romania has not yet introduced restrictions on the import and transit of Ukrainian agricultural products, while strengthening control and inspections of agricultural goods imported into its territory.
The governments of these five countries have addressed the European Commission with a letter, requesting that measures be taken to cap agricultural imports from Ukraine, as a large flow of grain and food products from Ukraine has led to a drop in product prices.
The European Commission has proposed an aid package for farmers from countries bordering Ukraine, which includes financial assistance and other benefits. The aid will be provided on the condition that restrictions on the import of Ukrainian agricultural products ia lifted.
Currently, consultations are ongoing with the participation of the European Commission and representatives from Bulgaria, Hungary, Poland, Slovakia, Romania, and Ukraine.