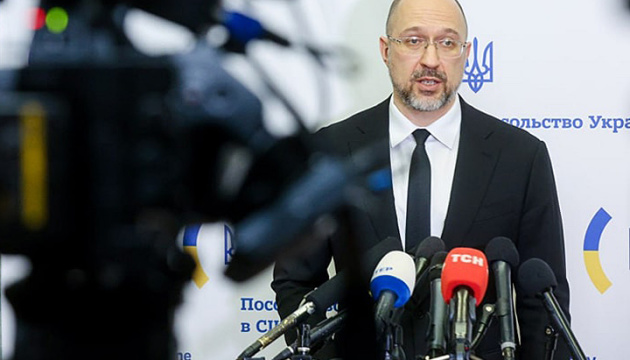 Shmyhal: It's possible to attract up to $500B of Russia's frozen assets for reconstruction of Ukraine
The Government of Ukraine holds negotiations with partners regarding the legal justification and practical use of frozen Russian assets, which range from $300 to $500 billion, for projects to restore the destroyed Ukrainian infrastructure.
"We discuss all possible legal mechanisms with our partners: how to confiscate all these [frozen] assets, and how to channel them into projects to restore Ukrainian infrastructure," Prime Minister of Ukraine Denys Shmyhal said during a press conference in Washington, D.C. on Friday answering questions from Ukrinform.
He emphasized that it is the aggressor, not international donors, who must compensate for all the losses and destruction it caused to Ukraine.
"We see this as the only significant, important source for the recovery of Ukraine. The amount potentially ranges from $300 to $500 billion," the Prime Minister noted.
He also said that this is one of the most difficult topics for partners but there is already a progress due to consistent efforts made. In particular, according to him, Canada became the "driver" of the confiscation of funds of a Russian oligarch. The next step is the confiscation of a Ruslan aircraft of the Volga-Dnepr company. In addition, the US seized the first sum of more than $5 million and transferred it to Ukraine.
"In other words, this is an open door for us to continue the conversation about the confiscation of Russian funds," Shmyhal said.
The Head of Government also noted that this issue was negotiated with the Vice-President of the European Commission during his visit to Washington, D.C.
According to him, today the EC officially collects data on frozen assets from all EU Member States in order to make decisions on how to move forward. In addition, this issue was discussed separately with the finance ministers of the EU countries, as well as Great Britain and other partners.
"And, of course, we discuss the confiscation of sovereign Russian assets," the Prime Minister added.
In this regard, he expressed hope that it will be possible soon to find the right legal solution at the global level to ensure legal mechanisms for such confiscation.
"This is necessary because Russia has destroyed the global security system, and we have to find new elements of global security, including through the financial instruments of confiscation," the Prime Minister of Ukraine summed up.
As reported, the Head of Government was on a working visit to Washington, D.C. on April 12-14. Shmyhal took part in the annual Spring Meetings of the World Bank Group and the International Monetary Fund and met with U.S. Secretary of Defense Lloyd James Austin III, U.S. Secretary of Commerce Gina Raimondo, U.S. Secretary of the Treasury Janet Yellen, and the management of the IMF, the World Bank, and the European Investment Bank.