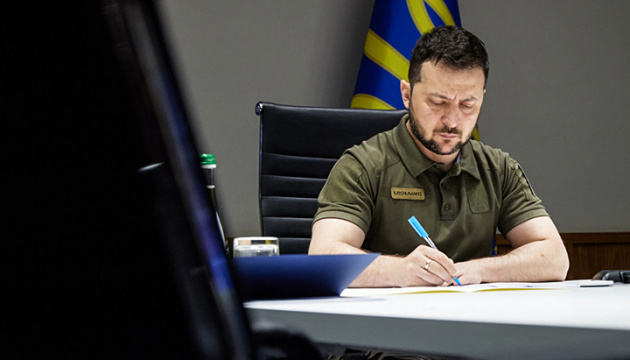 Zelensky approves NSDC sanctions against individuals, legal entities from Russia, Iran
Ukrainian President Volodymyr Zelensky has enacted a decision of the National Security and Defense Council of Ukraine (NSDC) to impose sanctions on a number of individuals and legal entities.
The relevant Presidential Decree, No. 191/2023, was published by the Office of the President of Ukraine, an Ukrinform correspondent reports.
The NSDC's Decision Regarding the Application and Amendments to Personal Economic and Other Restrictive Measures (Sanctions) affected a number of individuals and legal entities from Russia and Iran.
In particular, a total of 240 individuals were sanctioned, including Viacheslav Bohuslaiev, the former president of Motor Sich, who had been charged with treason in Ukraine.
Additionally, the sanctions list included 155 legal entities.
The sanctions will be in effect for a period of 10 years.
The Office of the President of Ukraine also published Presidential Decree No. 192/2023, enacting the NSDC's decision to impose sanctions on 33 Russian nationals and 225 legal entities, namely Information Satellite Systems Reshetnev JSC, Plant 'Plastmass' JSC, Kazan Motor Building Production Association JSC, Armavir Electrotechnical Plant JSC, etc.