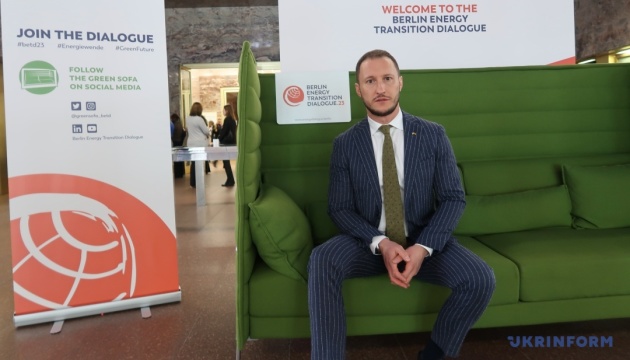 Germany's economy minister to visit Ukraine
Ukraine and Germany are planning to deepen the energy partnership and set new goals during the visit to Ukraine of Robert Habeck, Vice Chancellor and Minister of Economy of Germany.
Ukraine's Deputy Energy Minister Yaroslav Demchenkov told this to an Ukrinform correspondent.
"We hope that during Minister Habeck's upcoming visit to Ukraine, we will sign an additional energy partnership. We will make an update," Demchenkov said.
He declined to comment on the date for the upcoming visit, but added that "the visit will be made very soon."
Demchenkov said that the issue of Ukraine's energy recovery is to be added to the energy partnership, which was launched two years ago. He said that Ukraine's Energy Minister German Galushchenko and Habeck had discussed the issue during their meeting on the sidelines of the 9th Berlin Energy Transition Dialogue. They agreed on the need to update the partnership that was established two years ago, taking into account the current situation.
The Ukrainian side is currently talking about a new energy strategy, about the possibility for German business to participate in various projects, Demchenkov said.
According to him, German companies are interested in wind energy, in particular offshore, solar, hydrogen, bioenergy, and energy efficiency. They are also interested in the creation of IT solutions: small distribution networks and smart grids, i.e. transmission and distribution systems.