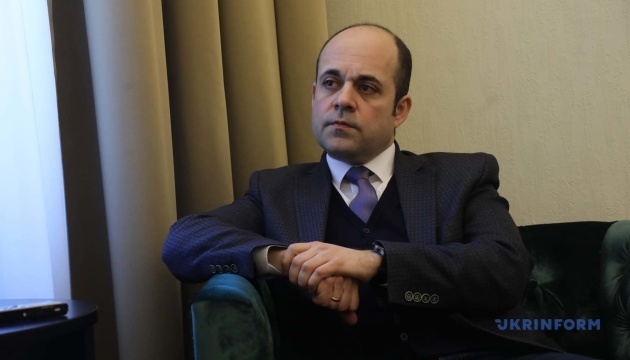 Qatari investors not planning to leave Ukrainian market despite war – MFA
Qatar's QTerminals, which took over the concession of Mykolaiv-based Olvia Sea Port, is maintaining jobs for Ukrainian workers despite the fact that the port is standing idle and is planning to continue operating in the Ukrainian market.
The relevant statement was made by Special Representative of Ukraine for the Middle East and Africa Maksym Subkh in an interview with Ukrinform.
According to Subkh, during his visit to Qatar, he had a meeting with the managing director of QTerminals, the company that signed the concession agreement regarding Olvia Sea Port.
"I would like to note that the Qatari side, despite the fact that the port is not functioning, has kept jobs for Ukrainian workers and continues to fully pay wages and take care of people. The head of QTerminals also emphasized that the Qatari side has no intention of leaving the Ukrainian market. Currently, they are following one of the provisions of the contract on the occurrence of force majeure circumstances and, after its validity expires, they are determined to extend it," Subkh told.
In his words, the Qatari side believes in the prospects of this project and sees the need to stay here, including to help Ukrainians who may simply lose their jobs if the company exits the market.
"In addition, we had a very serious talk, at the level of Government and companies, with the Qatari side about the need to involve Mykolaiv-based ports, including Olvia Port, in the Black Sea grain corridor, and asked to appeal to the UN and the Turkish side in order to put pressure on Russia and make it agree on this," Subkh noted.
Qatar is currently studying a number of Ukrainian projects, Subkh added. Moreover, the Ukrainian side is preparing additional proposals for Qatar in the context of Ukraine's post-war reconstruction. In particular, this refers to humanitarian, social and critical infrastructure objects that could be restored at the expense of Qatari investments by international or Ukrainian companies.
"Hence, there is a willingness to cooperate. However, Qatari funds are very pragmatic and require concise but very well prepared information. That is, each project must have a technical and economic rationale for how it will be implemented. This is an additional piece of work compared to our European partners, who often demonstrate a more proactive position and are ready to send their delegations to study projects on the spot and make relevant decisions," Subkh explained.
A reminder that, in early March 2023, Special Representative of Ukraine for the Middle East and Africa Maksym Subkh presented Ukraine's 'investment menu' in the manufacturing industry in Qatar and outlined the possibilities of attracting Qatari investments.