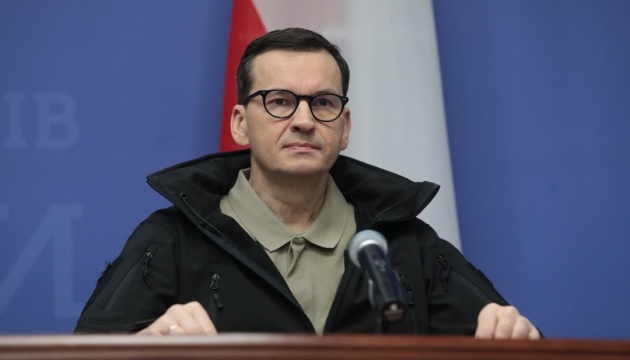 Poland ready to develop cooperation on gas production in western Ukraine – Morawiecki
Poland is ready to develop energy cooperation with Ukraine in several areas, including in gas production in western Ukraine and the creation of the Rzeszow-Khmelnytskyi NPP energy bridge.
Polish Prime Minister Mateusz Morawiecki said this during the conference "E23: PL for UA - Polish-Ukrainian Partnership in Building the Energy Security of the Future" in Warsaw on Wednesday, March 15, according to an Ukrinform correspondent.
Morawiecki said Warsaw could make the entire region independent of the "Russian world" in terms of energy, freeing countries from energy dependence on Russia.
He noted that it is in the national interests of Poland to develop cooperation with Ukraine and other neighboring countries in the field of energy, particularly in the context of joint geological exploration projects.
"We are already being invited to joint geological prospecting and mining projects in Ukraine. Of course, there should be peace there, but such projects are possible. The negotiations concern various areas, including gas exploration in western Ukraine," Morawiecki said.
He said that the Ukrainian side is also inviting Poland to cooperate in the modernization of the Rzeszow-Khmelnytskyi NPP power line.
Morawiecki said this could universally help strengthen the energy security of both Poland and Ukraine.