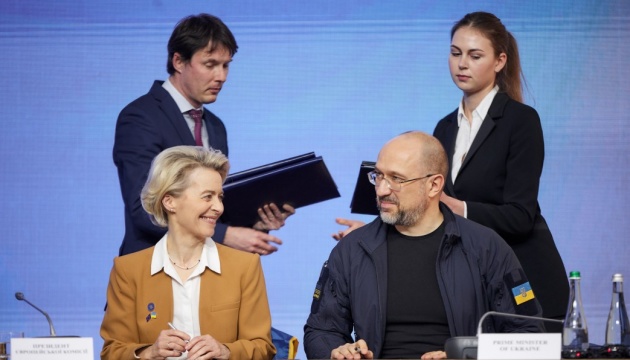 Ukraine signs agreement on participation in EU Single Market Programme
Ukraine has signed an agreement with the European Union on participation in the Single Market Programme.
Prime Minister Denys Shmyhal stated this at a joint briefing with President of the European Commission Ursula von der Leyen in Kyiv, an Ukrinform correspondent reports.
"We signed an agreement on Ukraine's participation in the European Union's Single Market Programme with a budget of EUR 4.2 billion," Shmyhal said.
He added that this program is aimed at "ensuring green and digital transitions" and will contribute to the development of the competitiveness of Ukrainian business.
As reported, in January 2023, President of Ukraine Volodymyr Zelensky signed the decree "On the delegation of Ukraine to participate in negotiations with the European Commission regarding the conclusion of an agreement between Ukraine, on the one hand, and the European Union, on the other hand, regarding Ukraine's participation in the European Union's Single Market Programme (2021-2027)".
The European Union's Single Market Programme is a financial support program of the EU with a budget of EUR 4.2 billion, which is designed for 7 years (from 2021 to 2027). Ukraine's accession to this program will strengthen cooperation with the EU, which is especially important in view of the European integration processes and Ukraine's EU candidate status.
The programme should facilitate access to markets, create a favorable business environment, promote business development and growth, ensure competitiveness and sustainability of companies and entire sectors of the economy (combining ecosystems, clusters). It will help develop the business environment, including mentoring schemes. Among other things, participation in the European Enterprise Network (EEN), Erasmus for Young Entrepreneurs (EYE), and joint cluster initiatives is envisaged.