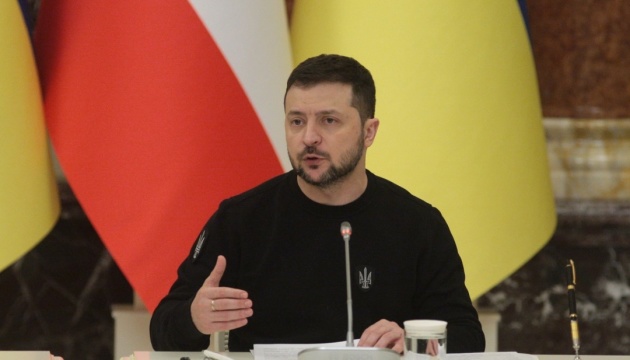 Zelensky calls on Austrian businesses to leave Russia and enter Ukraine
President of Ukraine Volodymyr Zelensky has emphasized the need to strengthen sanctions against Russia and noted that some Austrian businesses continue to work in the Russian Federation.
He said this at a joint press conference with President of Austria Alexander Van der Bellen in Kyiv, an Ukrinform correspondent reports.
"We discussed in detail the cooperation of our states at the level of the European Union, and I emphasized the need for further strengthening of sanctions against Russia. Our team stressed that the terrorist state must feel the price for its terror and the real limitation of its ability to continue this war, this aggression. And in this context, we note the situation concerning Austrian businesses. There are some of them which, despite the terrible Russian terror, are not leaving Russia, continue to support the terrorist state, we believe, with own taxes. And therefore, we are very interested in these businesses to go to Ukraine instead, we want to discuss this issue at the systemic level. And we will talk about this today," Zelensky said.
In particular, he cited the example of Raiffeisen Bank, "which not only works in Russia, but also approves decisions, such as tax holidays for those mobilized in the Russian army."
"We believe that this is unacceptable in today's realities. We call on the Austrian side to make every effort so that individual companies do not betray Austrian society. I believe that this important issue, like many others, will be resolved on the basis of common values of freedom, democracy, the rule of law and human rights," Zelensky said.
As reported by Ukrinform, earlier Raiffeisenbank Russia, which is part of the Austrian banking group Raiffeisen Bank International (RBI) and which is still operating in Russia, introduced a loan moratorium for Russian servicemen participating in the war against Ukraine. In a comment to Ukrinform, RBI stated that their banking subsidiary in Russia was "legally obliged" to introduce a loan moratorium for Russian military personnel.
Business in Russia brought Raiffeisen Bank International €1.4 billion in profit for the nine months of 2022, which is half of all profits of this Austrian banking group.
In March 2022, Raiffeisen Bank International, which is one of the largest European banks in the Russian Federation, said that the war in Ukraine forces RBI "to reconsider our position in Russia." It was stated that RBI is "assessing all strategic options for the future of JSC Raiffeisenbank Russia." This process has been ongoing for more than 11 months of the war.
iy