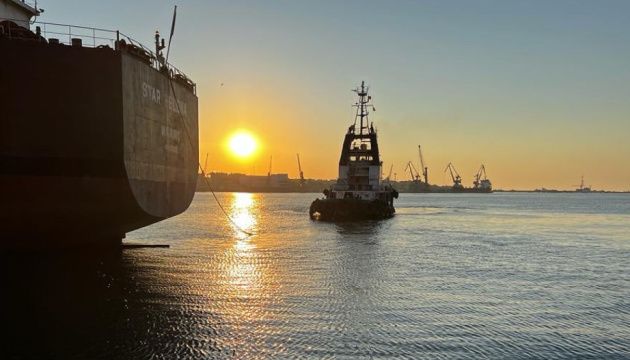 Ukraine invites Kuwait to participate in Grain from Ukraine program
On January 30, 2023, Special Representative of Ukraine for the Middle East and Africa Maksym Subkh in a phone call with Deputy Minister of Foreign Affairs of Kuwait Mansour Al-Otaibi called on Kuwait to join the Grain from Ukraine program.
This is said in a statement released the Ukrainian Ministry of Foreign Affairs, Ukrinform reports.
Ukraine's Special Representative informed his Kuwaiti counterpart about the current situation in the country amid the Russian aggression, as well as about the international initiatives of the President of Ukraine aimed at its ending and bringing the criminals to justice. Maksym Subkh provided details about the implementation of the Peace Formula, the ultimate goal of which is a just peace based on the UN Charter and international law.
"The parties exchanged views on giving a new impetus to cooperation between Ukraine and Kuwait in the political and economic spheres. Kuwait was invited to participate in the Grain from Ukraine initiative and the projects on the rebuilding of Ukraine," the report says.
According to the MFA, the sides also discussed the recent developments in the Middle East. The Ukrainian diplomat thanked the Kuwaiti side for the recent decision of the Government of the State of Kuwait to provide humanitarian aid for the energy sector of Ukraine and expressed hope for further expansion of such assistance.
In his turn, Mansour Al-Otaibi reiterated Kuwait's support of the Peace Formula initiated by President of Ukraine Volodymyr Zelensky and noted the importance of its implementation with the participation of as many countries as possible. He also emphasized the solidarity of Kuwait with Ukraine in the context of the Russian aggression, which is a blatant violation of the UN principles. This conversation followed up on the arrangements agreed upon during a phone call between Foreign Ministers Dmytro Kuleba and Sheikh Salem Al-Sabah on January 23, 2023.
As reported, the Grain from Ukraine program was initiated by President of Ukraine Volodymyr Zelensky. It provides for the purchase of Ukrainian grain by partner countries and its transfer to states experiencing a humanitarian crisis. The program is implemented in partnership with the World Food Program under the auspices of the United Nations.
iy