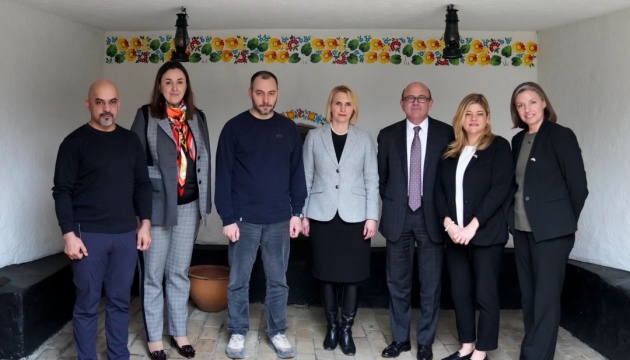 Ukraine proposes creating mechanism for auditing US aid for recovery projects
Ukraine has proposed creating a mechanism for auditing the aid provided by the United States for recovery projects, together with the U.S. Government Accountability Office.
Ukraine's Infrastructure Minister Oleksandr Kubrakov said this in a post on Facebook, Ukrinform reports.
Kubrakov said the mechanisms and procedures for transparency and accountability in the use of funds and assistance that Ukraine receives for recovery and post-war reconstruction had been discussed at a meeting with inspectors from the U.S. Department of Defense, the State Department, and the U.S. Agency for International Development (USAID), who arrived in Kyiv to audit the U.S. aid.
Kubrakov recalled that a few weeks ago, the Cabinet of Ministers decided to create the State Agency for Reconstruction and Development of the Infrastructure of Ukraine. On the agenda is the development of the mechanism of coordination and accountability of donor assistance, including through the implementation of procurement procedures of international financial institutions.
"We proposed creating a respective mechanism for auditing the United States aid for recovery projects together with the U.S. Government Accountability Office (U.S. GAO). I hope this will become an additional effective tool to ensure transparency in the use of aid from partners," the minister said.
According to Kubrakov, access to the mechanisms for direct purchases from manufacturers is also critically important today, because it saves state enterprises billions of hryvnias. For example, thanks to Ukrzaliznytsia's direct contracts with American multinational oil and gas corporation ExxonMobil or Polish oil refiner Orlen, it was possible to overcome last spring's fuel shortage in a few months' time. At the same time, under direct contracts, Ukrzaliznytsia purchased electricity from the national power generation company Energoatom, thus saving more than UAH 4 billion. The costs of purchasing natural gas for production companies were reduced by a quarter.
Kubrakov thanked his American colleagues for their leadership role in supporting Ukraine in the fight against the Russian aggressor. "Today, Ukraine is showing the whole world that it is a reliable and predictable partner with operating anti-corruption institutions, and we continue to move in this direction," he added.
On January 27, inspectors from the U.S. Department of State, the Department of Defense, and the U.S. Agency for International Development (USAID) arrived in Ukraine for meetings and with the aim of improving independent oversight of U.S. support for Ukraine.
Photo: Oleksandr Kubrakov, Facebook