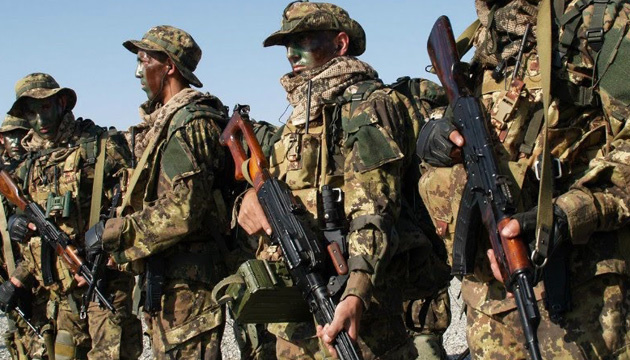 U.S. Treasury hits Russian defense industry, Wagner Group with more sanctions
The U.S. Department of the Treasury's Office of Foreign Assets Control (OFAC) has taken additional actions to degrade the Russian Federation's capacity to wage war against Ukraine by sanctioning six individuals and 12 entities.
The action "targets the infrastructure that supports battlefield operations in Ukraine, including producers of Russia's weapons and those administering Russian-occupied areas of Ukraine," the press release reads.
Notably, the actions include the designation of persons that support Russian defense-related entities.
"As sanctions and export controls on Russia from our international coalition continue to bite, the Kremlin is desperately searching for arms and support – including through the brutal Wagner Group – to continue its unjust war against Ukraine," said Treasury Secretary Janet Yellen. "Today's expanded sanctions on Wagner, as well as new sanctions on their associates and other companies enabling the Russian military complex, will further impede Putin's ability to arm and equip his war machine."
The U.S. Treasury has designated Russia's PMC Wagner Group as a "significant transnational criminal organization."
The decision to impose sanctions aims, among other things, to disrupt the notorious Wagner Group's global network.
In this regard, OFAC designated:
JSC Terra Tech – a technology firm supplying satellite and aerial imagery to Wagner.
Changsha Tianyi Space Science and Technology Research Institute – a China-based entity that provided Terra Tech with satellite imagery to enable Wagner's combat operations in Ukraine.
Spacety Luxembourg S.A.
BARL – a Russian space company supporting Russia's military campaign in Ukraine, which shared satellite imagery with Russia's military.
The Treasury also designated persons in the Central African Republic and the United Arab Emirates that are connected to Wagner's operations in CAR: Officer's Union for International Security and its chief Aleksandr Ivanov, Sewa Security Services, Kratol Aviation, and Valery Zakharov, who served as the national security advisor to the CAR president.
The Treasury Department also says sanctions are imposed to further degrade Russia's war machine.
Among sanctioned entities that are part of Russia's defense industrial complex are
Aviacon Zitotrans – a cargo airline that handled shipments for sanctioned defense entities.
Ural Civil Aviation Factory – a developer of the Altius UAV for the Russian defense ministry.
National Aviation Service Company – a company engaged in repairs and maintenance of aircraft and electronic equipment.
Research and Production Enterprise Prima – a developer of communication equipment for helicopters and airplanes.
Scientific and Production Enterprise Gamma – an entity working in the interest of the FSB.
TKKH-Invest – a financial vehicle through which another designated individual, Alan Lushnikov, owns shares in Kalashnikov Concern.
Almaz-Antey – designer and developer of anti-aircraft, anti-missile, and non-strategic missile defense systems. The company Director General, Yan Novikov, was also designated.
Targeting Putin's "cronies" and their family members the U.S. sanctioned Rustam Minnikhanov, chairman of the board of the U.S.-designated Tupolev JSC, which produced strategic bombers for Russia's armed forces. Also sanctioned is his wife Guslina Minnikhanova and her main asset, Luchano Ltd.
As part of holding Russia accountable for the illegal attempted annexation of Ukrainian territories, OFAC sanctioned two individuals.
"A critical aspect of Putin's war against Ukraine is Russia's effort to control – including through sham annexation referendums – Russia-occupied areas of Ukraine. As a part of promoting accountability for those involved in this aspect of Russia's war effort, Treasury is designating two Russian Federation Presidential Administration (PA) officials involved in these reprehensible efforts," the statement reads.
These are Aleksandr Kharichev and Boris Rapoport, Russia's PA officials associated with U.S.-designated Sergei Kiriyenko. The PA subdivision led by Kharichev was tasked with hiring personnel to administer Russia-occupied areas of Ukraine's Donbas region.
The Department of State is concurrently taking a number of actions, designating five entities and one individual linked to the Wagner Group and also designating 23 individuals and entities for their status as government officials, their involvement in the extended networks of designated persons, and/or for being a part of Russia's military industrial complex. Additionally, the Department of State is identifying two yachts and one aircraft as blocked property.