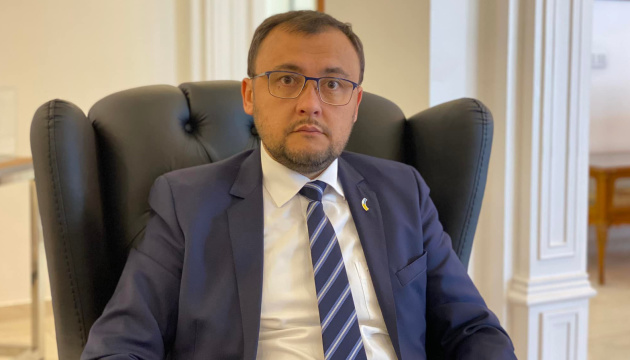 Ambassador of Ukraine: Grain agreement proves its viability, extension pending
The grain agreement, which will expire in less than 60 days, has proven its viability, and the issue of its extension is currently pending.
"The issue of the extension of this [grain] initiative is pending as it will expire in less than 60 days, and this is one of the urgent issues now... This initiative has proven its viability," Ambassador of Ukraine to Türkiye Vasyl Bodnar said at a briefing at the Media Center Ukraine–Ukrinform on Tuesday, January 24.
In this context, he recalled that President Zelensky launched the Grain From Ukraine initiative to develop this agreement, and as a result of cooperation with the Turkish side, a lot of Ukrainian grain is processed in Türkiye and then enters the markets of those countries that need grain products.
The diplomat noted that the amount of products transported through the grain corridor is not what we would like to see as representatives of the aggressor state in the Joint Control Center are constantly trying to slow down the process of ship inspections.
"Of course, we could do much more, but it is an effective process as of now, and it is the only way to supply large quantities of the grain we grow," the Ambassador of Ukraine stated.
He noted that the grain corridor operation is one of the priorities of Ukraine–Türkiye cooperation.
"I believe that this will become one of the elements of the implementation of President Zelensky's Peace Formula with global food security as one of its key points. I believe that Türkiye will also play its key role," Bodnar predicted.
As reported, as a result of the quadrilateral negotiations organized by Turkey, the Agreement on the Black Sea Grain Corridor was extended for 120 days from November 19, 2022, in accordance with the decision made by Turkey, the United Nations, the Russian Federation, and Ukraine.
ol