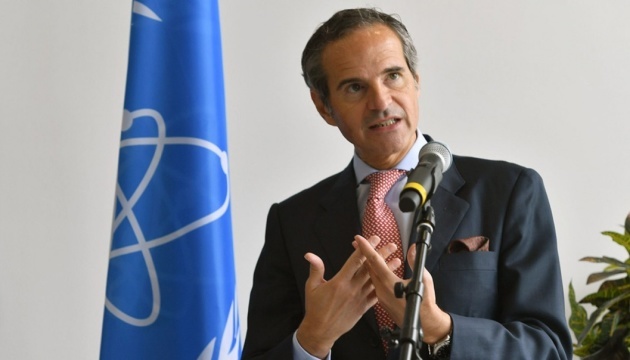 IAEA director general to hold talks in Kyiv
Director General of the International Atomic Energy Agency (IAEA) Rafael Mariano Grossi will visit Ukraine next week to ensure a continuous presence of nuclear safety and security experts at all the country's nuclear power facilities.
This is said in a statement published on the agency's website, Ukrinform reports.
"The Director General will travel to the South Ukraine and Rivne Nuclear Power Plants (NPPs) as well as to the Chornobyl site to launch the missions consisting of two IAEA experts at each of the facilities," the statement says.
It is noted that the IAEA already has a permanent presence of up to four experts at Ukraine's largest NPP, Zaporizhzhia, and a two-member team will also be stationed at the Khmelnytskyi NPP in the coming days.
According to Grossi, IAEA nuclear safety and security experts "will monitor the situation at the plants, assess their equipment and other needs, provide technical support and advice, and report their findings to IAEA headquarters".
In total, the IAEA will have around 11-12 experts present in the country at any given time.
The IAEA Director General will also meet next week senior Ukrainian government officials in the capital Kyiv on his proposal to set up a nuclear safety and security protection zone around Zaporizhzhia (ZNPP), where the IAEA has been present for more than four months.
"I remain determined to make the much-needed protection zone a reality as soon as possible. My consultations with Ukraine and Russia are making progress, albeit not as fast as they should. I remain hopeful that we will be able to agree and implement the zone soon," Director General Grossi said.
As reported, in December, IAEA Director General Rafael Mariano Grossi held negotiations in Moscow regarding the creation of a safety zone around the occupied Zaporizhzhia NPP.
On March 4, the Zaporizhzhia NPP was seized by the Russian military. Since then, the Russians have been placing military equipment and ammunition in the plant's territory and shelling the surrounding area.
Currently, all six power units of the temporarily occupied Zaporizhzhia NPP do not function, their activation is blocked by the invaders. ZNPP continues to consume about 100 MW for its own needs from Ukraine's energy system.
Photo: D. Calma/IAEA
iy