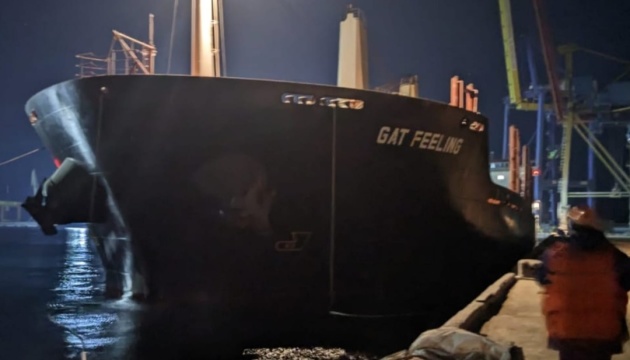 Nine grain ships depart from Ukrainian ports over past weekend
Nine ships carrying 432,000 tonnes of Ukrainian agricultural products have left Ukraine's Black Sea ports over the past weekend.
According to Ukrinform, the press service of the Ministry of Infrastructure of Ukraine said this in a post on Facebook.
"'Grain initiative': over the holiday weekend, nine vessels exported 432,000 tonnes of Ukrainian products to countries in Africa, Asia and Europe," the report said.
It added that the bulk carrier HONORINE is heading to Tunisia with 27,500 tonnes of Ukrainian grain on board. The bulk carrier VELVET is transporting 57,000 tonnes of wheat to Bangladesh.
On Tuesday, January 3, 19 vessels were being loaded with 630,000 tonnes of agricultural products in the ports of Odesa, Chornomorsk, and Pivdennyi. No new ships are expected to be loaded with grain.
In the Bosphorus, 94 vessels are awaiting inspection (69 vessels are empty for loading, and 25 are already loaded with agricultural products). The Russian side systematically slows down inspections. Vessels wait for passage for over a month on average.
According to the ministry, the T-Med bulk carrier with wheat on board has been awaiting inspection since the beginning of November last year.
In total, since August 1, 620 ships have deported from Ukraine's Black Sea ports and exported 16.5 million tonnes of Ukrainian foodstuffs to countries in Asia, Europe, and Africa.
In Istanbul on November 17, Ukraine, the United Nations and Turkey agreed to extend the Initiative on the Safe Transportation of Grain and Foodstuffs from Ukrainian ports for another 120 days. The initiative was launched on July 22, and the first ship with Ukrainian foodstuffs left the port of Odesa on August 1.