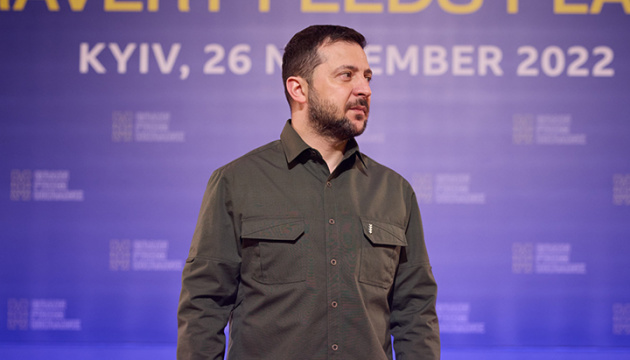 Ukraine proposes increasing number of ports for Black Sea Grain Initiative – Zelensky
Ukraine has offered to increase the number of ports within the Black Sea Grain Initiative.
President of Ukraine Volodymyr Zelensky said this during the international summit on food security "Grain from Ukraine" in Kyiv on November 26, reports Ukrinform.
"The Grain Initiative, unfortunately, still operates not at its full capacity. Russia is trying to delay the movement of vessels. There are more than 80 ships in line in the Bosphorus. We advocate an increase in the number of ports and the indefinite continuation of this important initiative. So that Russia does not block it again," Zelensky said.
The President stressed that Ukraine will fulfill its export obligations regarding the supply of grain and other foodstuffs to the global market. To date, almost 500 vessels have left our ports. This is 12 million tonnes of foodstuffs for 40 countries.
However, according to him, the full-fledged functioning of the grain corridor is not enough to meet the food needs of countries that are in acute danger of hunger
As part of the "Grain from Ukraine" initiative, food will be sent to countries in Africa and Asia, the goal is to save up to 5 million people from hunger.
"On this path, Ukraine has already taken the first steps – sent the first ships. In the middle of November – 27,000 tonnes of wheat for Ethiopia. Another vessel is being loaded today. And this is another 30,000 tonnes of wheat for people in Ethiopia. Three more vessels are currently going to the ports of Ukraine for loading. They will deliver more than 80,000 tonnes of food wheat to the countries that need it the most," Zelensky said.
As Ukrinform reported, by the end of spring 2023, Ukraine plans to send at least 60 ships from its ports under the "Grain from Ukraine" initiative to the countries that are at risk of drought and hunger - Ethiopia, Sudan, South Sudan, Somalia, Yemen, Congo, Kenya, Nigeria..
iy