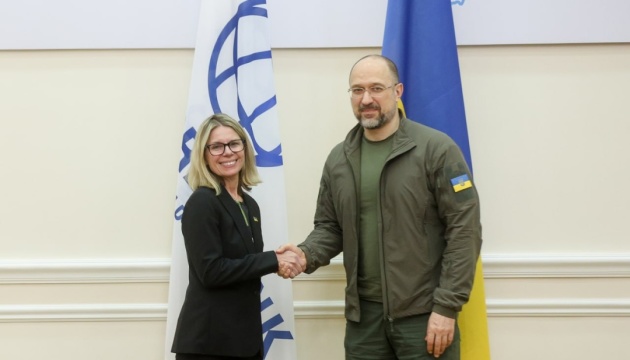 Energy, transport, medicine: PM Shmyhal meets with World Bank Vice President Bjerde
Ukrainian Prime Minister Denys Shmyhal and Vice President of the World Bank for Europe and Central Asia Anna Bjerde have held a meeting in Kyiv. The parties discussed support for Ukraine's 2023 state budget and the implementation of joint programs related to energy, transport and medicine.
The relevant statement was made by Ukrainian Prime Minister Denys Shmyhal on Telegram, an Ukrinform correspondent reports.
"Discussed the support of Ukraine's state budget for the next year, as well as the implementation of the existing programs and the launch of the new joint programs, namely in the field of energy, transport and medicine. Stressed the need to introduce a mechanism of war risk insurance. This will promote the opening of businesses and the attraction of investments in our country as soon as now," Shmyhal wrote.
Additionally, the parties discussed the rehabilitation and modernization of Ukraine. Shmyhal expressed gratitude to the World Bank for launching the Rapid Damage and Recovery Needs Assessment (RDNA) report.
"We highly appreciate the assistance of the World Bank and the personal involvement of Ms. Bjerde in supporting Ukraine. It helps us to move towards our common victory," Shmyhal noted.
A reminder that, in his speech during a business forum on the EU-Ukraine strategic partnership in the raw materials sector within the framework of the European Raw Materials Week 2022, Ukrainian Prime Minister Denys Shmyhal stated that Ukraine is willing to work together with the EU to become fully independent from Russian resources.
mk