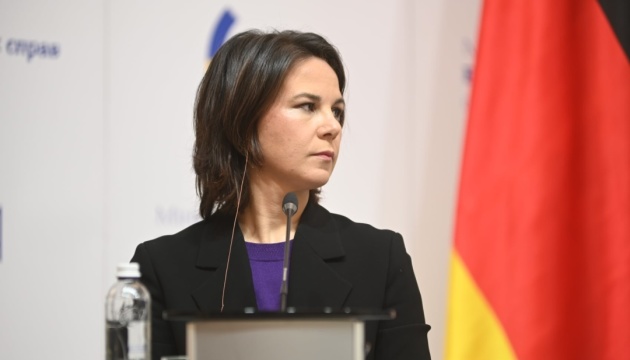 Baerbock calls on Russia to fulfill "grain deal"
German Foreign Minister Annalena Baerbock has called on Russia to fulfill its obligations under the agreement on the safe export of Ukrainian grain through the Black Sea.
That's according to Ukrinform citing Frankfurter Allgemeine Zeitung.
"Millions of people around the world are starving, while Russia is once again endangering the safety of grain-carrying vessels. This has to stop...Whether families in Lebanon, Niger, or Bangladesh can pay for their next meal must not depend on the Russian president's military plans," Baerbock said.
The top diplomat pointed out that dozens of grain carriers are currently on the way to deliver grain from Ukraine to other countries. "We call on Russia not to jeopardize the safety of these ships and to fulfill its obligations to the international community," she stressed.
As Ukrinform reported earlier, Russia accused Ukraine and Britain of "terrorist attacks against ships of the Black Sea Fleet and civilian vessels involved in guaranteeing the security of the 'grain corridor'" and announced its withdrawal from the Black Sea Grain Initiative.
The head of the Ministry of Foreign Affairs of Ukraine, Dmytro Kuleba, called on the international community not to allow Russia to block, under a false pretext, the "grain corridor", which guarantees food security of millions of people.
On the morning of October 29, explosions rang out in the bay of the temporarily occupied Sevastopol. Ukraine has not confirmed involvement.
In Istanbul on July 22, at the suggestion of the United Nations, Ukraine, Turkey, and UN Secretary-General Antonio Guterres signed the Initiative on the safe transportation of grain and food products from the ports of Odesa, Chornomorsk and Pivdenny.i Guterres called for an extension of the Black Sea Grain Initiative, which expired on November 22.
The Ikaria Angel bulker carrying 40,000 tonnes of grain, which was destined for Ethiopia, could not leave the Ukrainian port on Sunday due to the blockade, renewed by Russia after it suspended participation in the "grain deal."
Photo provided by the press service of the Ministry of Foreign Affairs of Ukraine