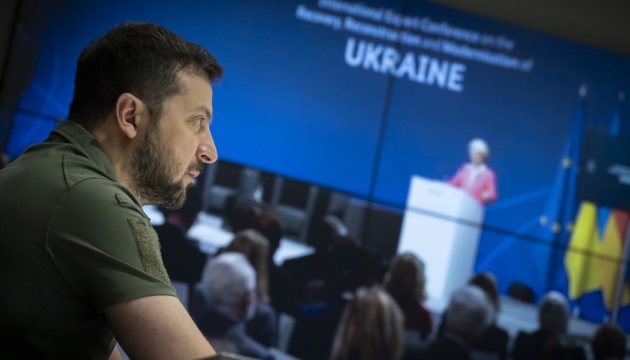 Zelensky to EU: We need fast mechanism for directing Russian assets to compensate for war-related losses
Ukrainian President Volodymyr Zelensky has said there should be a legal and concrete mechanism for compensating for losses suffered by Ukraine at the expense of Russian assets.
He said this in a virtual speech at the International Expert Conference on the Recovery, Reconstruction and Modernization of Ukraine in Berlin on Tuesday, October 25, according to an Ukrinform correspondent.
"We must decide on the specifics of how the mechanism of compensation by the aggressor state for all losses caused by this war will work. Russian assets - those that have already been frozen, and those that still need to be frozen, are significant," Zelensky said.
He said that a significant part of these assets is in the jurisdictions of European countries.
"We need a real, fast, legal mechanism for directing Russian assets to compensate for the losses caused by the Russian war," Zelensky said.
Former U.S. Ambassador to Ukraine William Taylor, vice president at the United States Institute of Peace, said that Russia must answer for the war crimes and destruction that its troops have caused to Ukraine and pay from $750 billion to $1 trillion for Ukraine's recovery.