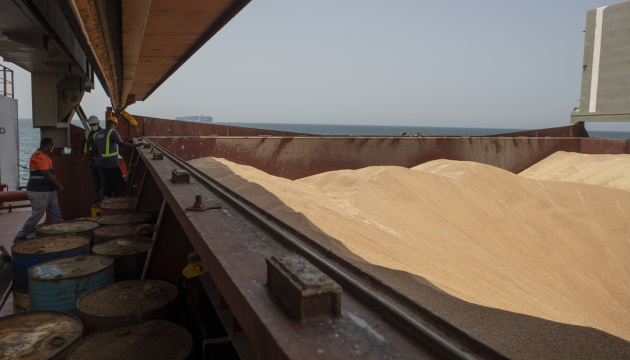 Ukraine calls on world to demand Russia stop artificial delays in inspections of grain ships
The Ukrainian Foreign Ministry has called on the international community to demand that Russia immediately stop artificial and politically motivated delays in the inspections of vessels using the Black Sea grain corridor.
The ministry said this in a statement posted on its website, Ukrinform reports.
The ministry expressed its concern about the Russian Federation's actions leading to delays in operations of the grain corridor through the Black Sea. Starting from October 14, 2022, Russia's inspectors assigned to the Istanbul Joint Coordination Centre have been significantly prolonging the inspection of vessels, which are heading to Ukraine's ports for grain loads, or have already been loaded and are on their way to the final destination. As a result, more than 165 vessels have been stuck in a queue near the Bosporus Strait, and this number continues to grow daily, the statement said.
"We have reason to believe that the delays in Russia's inspections of the grain initiative's vessels are politically motivated. Recently, the Russian leadership tried to question the grain corridor without any legitimate grounds, demanding new benefits for Moscow's consent to renew the deal," the ministry said.
It also emphasized that Russia's actions undermine global food security, in particular in the Global South. According to the ministry, the inspection delays have already prevented Ukraine from exporting an additional three million tonnes of grain, and ten million people across the world have not received food in time because of Russia's political agenda.
"We call on the international community, in particular African and Asian states who rely on Ukraine's grain exports, to demand that Russia immediately stops these artificial delays in the inspections of the grain corridor vessels. We must not allow the Kremlin to keep millions of people hostage to its hunger games," the ministry said.
Ukraine has also requested the Secretariat of the Joint Coordination Centre to urgently address Russia's delays, including by increasing the number of inspectors in the Bosporus Strait.
The statement also added that Ukraine remains committed to continue working closely with the United Nations and Turkey in order to ensure the unimpeded functioning of the Black Sea grain corridor.
On July 22 in Istanbul, at the United Nations' proposal, Ukraine, Turkey and UN Secretary General Antonio Guterres signed the Initiative on the Safe Transportation of Grain and Foodstuffs from the ports of Odesa, Chornomorsk and Pivdennyi.
The first ship with Ukrainian food left the port of Odesa on August 1.
However, Russia is now deliberately delaying the full implementation of the Black Sea Grain Initiative. In this connection, the ports have been operating at only 25-30% of their capacity in recent days.
Photo: Ukraine's Ministry of Infrastructure