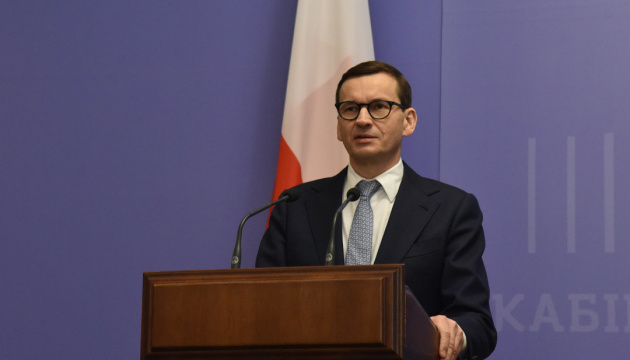 Assets seized from Russia should be used to rebuild Ukraine - Morawiecki
Russian assets confiscated abroad should not only be frozen, but also allowed to be used to rebuild Ukraine. Also, to defeat Russia, a new security architecture must be built.
That's according to Polish Prime Minister Mateusz Morawiecki, who spoke at an international conference in Warsaw on Wednesday, Ukrinform reports.
The head of the Polish government noted that a new security architecture must be built to defeat aggressive Russia.
"This security architecture should apply a totally different paradigm in the fields of energy, economy, trade, and financial cooperation," Morawiecki said.
He emphasized that no one is able to hide from Russian threats or ignore Russian capital. Therefore, Poland supports not only the freezing of Russian capital, but also its confiscation and reassignment to the reconstruction of Ukraine, in which Polish businesses will also partake.
The Prime Minister of Poland noted that the country's government supports pro-active involvement of Polish businesses in the reconstruction of war-torn Ukraine.
"Within the new security architecture, we will make sure that Poland and Polish entrepreneurs, who were on the first line of assisting Ukraine in its most difficult moments, which are not yet over, and that after the end of the war, Poland and Polish entrepreneurs are among those who will rebuild Ukraine in accordance with the new, grand Marshall Plan," Morawiecki said.
He added that it is also necessary to maintain positive energy in the matter of Ukraine's integration into the EU. He also recalled that Kyiv received the status of a candidate for membership, including, thanks to Warsaw's resolute actions.
During the conference, the Minister of Development and Technology of Poland Waldemar Buda recalled that 1,200 Polish companies submitted applications to the Polish Investment and Trade Agency regarding their will to participate in Ukraine's reconstruction. He expressed belief that although other foreign businesses, in particular those from the USA and Germany, would like to actively participate in the restoration of Ukraine, the involvement of Polish companies will be the most significant one in the process.
As reported earlier, Ukrainian government is counting on utilizing confiscated Russian assets, in particular those of the International Reserve Bank (formerly Sberbank) and Prominvestbank (PIB), to restore housing stock destroyed as a result of hostilities.