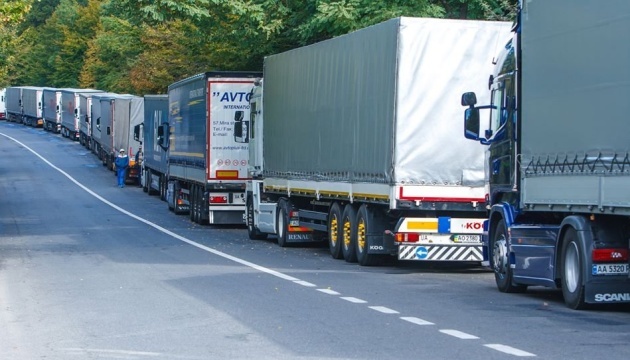 Ukraine-Poland border: 45-km line of trucks sparks concern in Kyiv
The number of phytosanitary and veterinary inspectors should be increased on the Polish side of the border in order to settle the critical situation with checkpoints' capacity as transport companies are facing massive delays.
That's according to Deputy Minister of Infrastructure Mustafa Nayyem, who expressed his opinion via Telegram, Ukrinform reports.
"This week, a historical record was broken: the line of trucks to the Yagody checkpoint on the Polish border crossed a 45-kilometer mark. These are definitely not the records we strive for. Drivers live on the roadside outside the checkpoints, in terrible conditions, for a week or more, losing money," the official said.
Nayyem clarified that the number of employees of both services has increased almost 1.5 times, while the average time for one truck to be cleared by the respective Ukrainian services is now down to 10 to 15 minutes. However, thousands of cars remain stuck due to a traffic jam on the Polish side.
In the pre-crisis period, Poland's phytosanitary and veterinary services cleared about 80 trucks per day, while today the number of vehicles cleared has decreased several times, for example, on August 28, it was 12 trucks, and on August 31 – only 19.
"There is a solution. We have offered it many times, in many closed-door, open, joint, and bilateral meetings. It's very simple: increasing the number of employees of phytosanitary and veterinary services on the Polish side. We just need more people doing inspections on the Polish side," the official concluded.
As reported earlier, Ukraine and Poland, as part of the Open Border project, agreed to increase the capacity at the Kraków–Korchów checkpoint by at least 50%, in particular by increasing the number of truck lanes and setting up additional pavilions for customs and passport control.