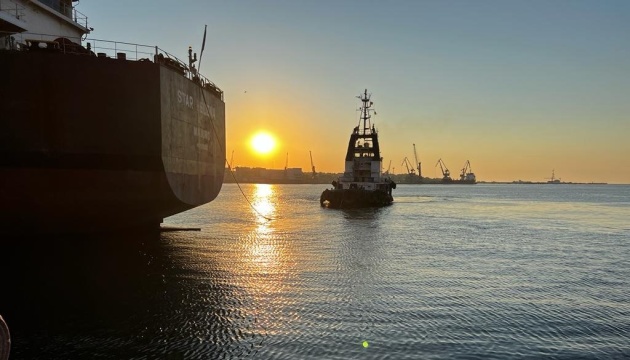 Six ships carrying grain leave Ukrainian ports at once, one heading for Yemen
Six ships loaded with agricultural products left Ukrainian ports through the safe grain corridor on the morning of Tuesday, August 30.
This was reported by the Ministry of Infrastructure on Telegram, according to Ukrinform.
"Today, six ships departed from the ports of Odesa, Chornomorsk, and Pivdennyi at once. Among them is the Karteria ship, chartered by the UN World Food Program to help the population of Yemen," the report reads.
It is noted that a total of 183,000 tonnes of Ukrainian grain is on board the ships Seajoy, Lady Zehma, Saffet Aga, Simas, Michallis, and Karteria.
"In less than a month of the Initiative's work, we exported almost one and a half million tonnes of agricultural products, which is quite a significant result. However, we have to send 100-150 vessels per month with a total monthly capacity of 5 million tonnes from the three ports of Greater Odesa," said Minister of Infrastructure of Ukraine Oleksandr Kubrakov.
At the same time, the minister added, Ukraine is strengthening the humanitarian part of the initiative. Today, the second ship chartered by the UN World Food Program to fight world hunger departed. Some 37,500 tonnes of wheat for Yemen, which is in a state of humanitarian disaster, is on board the Kateria bulker. According to UN data, 16 million people are suffering from hunger in Yemen.
"We understand our global mission and responsibility to countries that need Ukrainian food. The convoy that left today is another step made by Ukraine towards the civilized world," said Kubrakov.
Throughout the implementation of the Initiative on the safe transportation of agricultural products, 61 ships have already departed from Ukrainian ports, carrying a total of about 1.5 million tonnes of agricultural products.
As reported, on July 22 in Istanbul, as a result of a four-way meeting between Ukraine, Turkey, the United Nations, and the Russian Federation, an agreement was signed on the export of grain and other food products from Ukrainian ports.