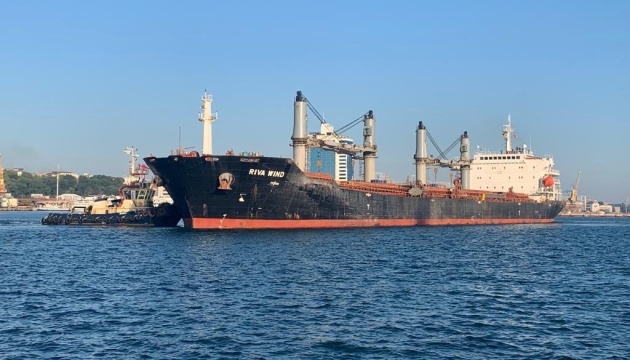 Four more ships carrying foodstuffs leave Ukrainian ports
The second sea caravan carrying Ukrainian foodstuffs left the ports "Odesa" and "Chornomorsk" – three ships from Chornomorsk and another one from Odesa.
As the Ministry of Infrastructure of Ukraine posted on Facebook, four bulkers – MUSTAFA NECATI, STAR HELENA, GLORY, and RIVA WIND – carry almost 170,000 tonnes of agricultural products.
"After the organization of the first caravan, we are gradually moving on to larger volumes of work. We plan to ensure the capacities of the ports to handle at least 100 ships per month in the near future. Also, we plan to fully involve 'Pivdenny' port in the implementation of the initiative soon. We expect that this will help to send even larger caravans of ships to buyers, at least up to 3 million tonnes per month," stressed Minister of Infrastructure of Ukraine Oleksandr Kubrakov.
It is noted that the ships are heading to the ports of Italy, China, and Turkey.
As reported, the Joint Coordination Center in Istanbul issued a permit for four ships carrying foodstuffs to leave Ukrainian ports on Sunday, August 7. In particular, dry cargo vessels MV GLORY and MV RIVA WIND carry more than 100,000 tonnes of corn to Turkey, MV STAR HELENA transports 45,000 tonnes of flour to China, and MV Mustafa NECATI delivers 6,000 tonnes of sunflower oil to Italy.
ol