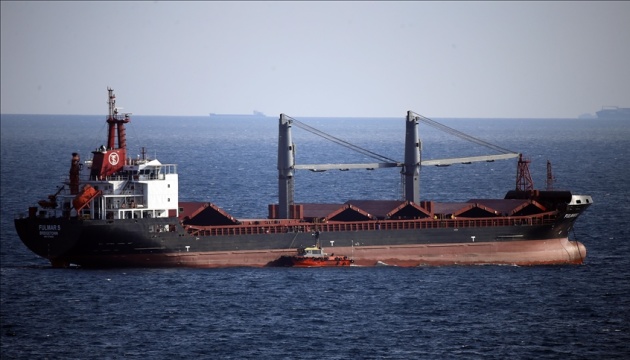 Ukraine's grain exports: Turkish ship approaching Chornomorsk, first time since war-start
Turkey's dry cargo ship FULMAR S is approaching the port of Chornomorsk to load grain, being the first such ship set to export agricultural produce from Ukraine since February 24, the day Russia invaded.
That's according to Andriy Klymenko, chief of the Institute for Black Sea Strategic Studies, who reported the news on Facebook, as seen by Ukrinform.
"The Institute for Black Sea Strategic Studies' monitoring group reports that as of 15:00 on August 6, the Turkish bulk carrier FULMAR S has been observed approaching the port of Chornomorsk," the expert noted.
As reported, on August 5, the first caravan of vessels carrying Ukrainian grain departed from the ports of Great Odesa. There are 57,000 tonnes of Ukrainian corn on board the three bulkers – Navi Star, Rojen, and Polarnet, which are destined for Turkey, Great Britain, and Ireland.
Minister of Infrastructure of Ukraine, Oleksandr Kubrakov, earlier noted that transportation from the port of Chornomorsk has been resumed with the said caravan. He also expressed hope that the security guarantees undertaken by partners from the UN and Turkey will continue to work, and that food exports from Ukrainian ports will be stable and predictable for all market players.