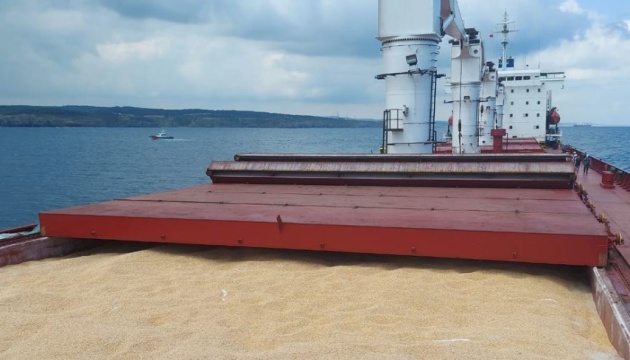 More grain ships ready to leave Ukrainian ports - Kuleba
More grain ships are ready to leave Ukrainian ports, according to the agreed schedule, Ukrainian Foreign Minister Dmytro Kuleba has said.
He stated this at a joint briefing with his Estonian counterpart, Urmas Reinsalu, in Kyiv on Wednesday, August 3, according to an Ukrinform correspondent.
Kuleba said that as of now, the agreements reached as part of the so-called grain deal are being implemented, adding that Ukraine became the first of all parties to the deal, which was fully ready to fulfill all the points.
"We will steadfastly continue to fulfill this agreement. It is beneficial to Ukrainian farmers, it is beneficial to the Ukrainian economy and it is beneficial to the world. It is Ukraine that is now literally the savior of the world from a further rise in food prices and from hunger in certain countries," he said.
Kuleba added that further ships were ready for departure and they will leave the ports participating in the grain initiative, according to the agreed schedule.
"We hope that everything will work and the Russian Federation will not take any steps that would destroy these agreements, which were so difficult to achieve through the mediation of the UN and Turkey," he said.
On August 1, for the first time since the beginning of Russia's all-out invasion of Ukraine, a ship carrying more than 26,000 tonnes of Ukrainian corn left the Odesa port.
Photo from the website un.org