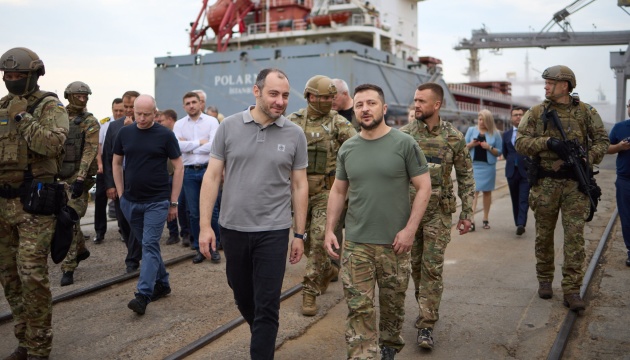 Zelensky: Ukraine ready to export grain, awaits signals from partners to start
Ukraine is ready for grain shipments and is awaiting signals from the partners to start.
President Volodymyr Zelensky said in a Facebook post, Ukrinform reports.
"We are ready to export Ukrainian grain. We are awaiting for signals from our partners to start shipments. It is important for us to remain a guarantor of global food security. While someone is taking lives in other countries by blocking the Black Sea, we allow them to survive," Zelensky said.
According to the President's Office, President Zelensky visited the Black Sea port of Chornomorsk.
"Our side is fully prepared. We sent all the signals to our partners - the UN and Turkey, and our military guarantees the security situation. The Minister of Infrastructure is in direct contact with the Turkish side and the UN, we are awaiting for a signal from them that we can start," Zelensky said.
He stressed that unblocking the export of Ukrainian grain will make it possible to avoid food shortages, as well as hunger and political chaos in countries that need food products.
Together with Zelensky, representatives of the diplomatic corps accredited in Ukraine also visited the port of Chornomorsk. Among them were Ambassador of the United States of America Bridget Brink, Ambassador of Great Britain Melinda Simmons, Ambassador of Italy Pier Francesco Zazo, Ambassador of Canada Larisa Galadza, Ambassador of the Federal Republic of Germany Anka Feldhusen, Deputy Head of the EU Delegation Remi Duflot, Coordinator of the UN system Osnat Lubrani.
As reported, the Joint Coordination Center in charge of controlling Ukrainian wheat exports through the Black Sea was opened in Istanbul on July 27.
iy