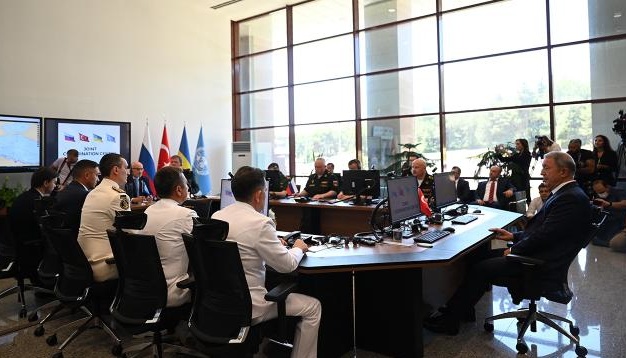 Grain exports from Ukraine: Joint Coordination Center officially opens in Istanbul
The Joint Coordination Center, which will take care of the export of grain and other foodstuffs from the ports of Ukraine through the Black Sea, has opened officially in Istanbul.
"The inability to export grain from Ukraine has created a serious security risk due to famine and illegal migration around the world, especially in the Middle East and Africa. Therefore, a need arose to create a corridor at sea for the safe delivery of more than 25 million tonnes of grain waiting at Ukrainian ports to the countries that need it in a short period of time," Turkish Minister of National Defense Hulusi Akar said at the opening, TRT Haber informs.
It is noted that civilian and military representatives from Ukraine, the UN, Turkey, and Russia will work at the center permanently.
"An important and open sign of determination was that all parties immediately sent their representatives to Istanbul the day after the agreement was signed. In this context, we hope that the work of the Joint Coordination Center will pave the way for a sustainable peaceful environment. We have already stated and we say at every opportunity that we stand for peace, tranquility, and dialogue," the minister added.
As reported, the Joint Coordination Center has started work in Istanbul to monitor the work of "grain corridors" in accordance with the agreement on the food exports from the ports of Ukraine, signed in Istanbul on July 22.
Photo credit: trthaber.com
ol