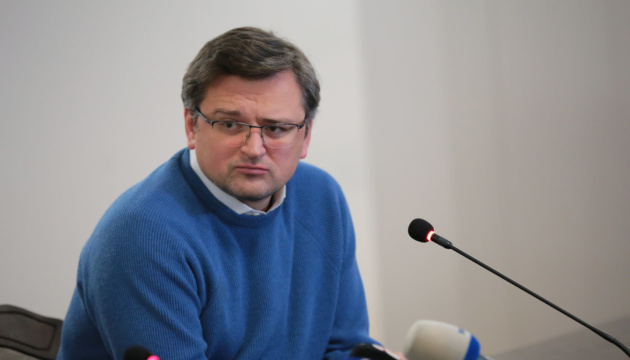 Sanctions must not be adjusted to accommodate Russia's whims, says Kuleba
Canada's decision to return to Germany a gas turbine for Russia's Nord Stream 1 gas pipe was a mistake as the sanctions regime should not be adjusted to the whims of the Russian Federation.
That's according to Ukrainian Foreign Minister Dmytro Kuleba, who spoke at an online briefing on Wednesday, July 13, Ukrinform reports.
"I don't see it as a 'betrayal', of course. But we honestly told our Canadian and German partners that what they had done was a mistake that put Russia in a winning position. This solution will not address the problems, this solution will only deepen them. They are sovereign nations, they are entitled to make decisions they deem necessary. But we do not agree with this decision and, in principle, we stand against the approach where the sanctions regime should be adapted to the whims or caprices of the Russian Federation," Kuleba said.
He noted that the main danger behind this decision is the destruction of the sanctions regime as such and the emergence of a dangerous precedent.
"Today they (the Russians - ed.) have created a problem with gas supply to Germany, they demand that the sanctions legislation of Canada, not Germany, must be changed to accommodate them. Tomorrow they will create another problem, and they will again demand that something be changed. That is how the sanctions regime will be destroyed. The main danger of this decision lies precisely in this," said the head of Ukraine's Foreign Ministry.
He recalled that a lawsuit challenging the decision had been filed in Canada.
"So this is not only Ukraine's stance, but of all the people who understand that similar precedents lead to the destruction of the sanctions regime created by the same countries," Kuleba emphasized.
Canada earlier decided to return to Germany a gas turbine built in Canada by Siemens Energy AG that was used in the Nord Stream pipeline system.
The decision was made despite objections from the government of Ukraine, as well as the large Ukrainian diaspora in Canada. The Ukrainian community stressed that returning the turbine would undermine the sanctions regime. Canada's Natural Resources Minister Jonathan Wilkinson said Saturday that the temporary export permit was granted following lengthy discussions with European allies as well as the International Energy Agency.
The Ukrainian World Congress (UWC) submitted a notice of application to the Federal Court of Canada for judicial review of the waiver provided to Siemens Canada which allows the return of repaired Nord Stream 1 turbines to Germany.