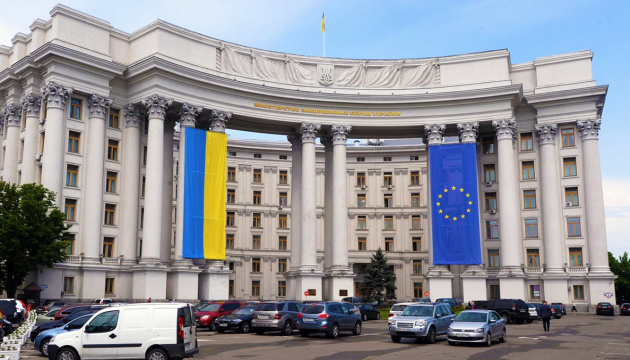 MFA Ukraine urges African Union leader to persuade Russia to stop war
Ukraine's Ministry of Foreign Affairs has called on the President of the African Union to appeal to Russia as the primary source of the food crisis to resolve the problem and to respect Ukraine's legitimate concerns about its own security.
Ukrainian FM's spokesperson Oleg Nikolenko wrote this on Facebook in response to a call by the President of the African Union for Ukraine to demine the ports of Odesa to facilitate grain exports, Ukrinform reports.
"We call on President Macky Sall and the African Union to use their leverage on Russia to convince it to stop its senseless hostilities. Ending the war will allow 22 million tonnes of grain stuck in the sea ports to be unblocked and avert a food crisis in Africa and beyond," Nikolenko said.
He stressed that Ukraine has always been a reliable supplier of agricultural products to African markets and is determined to resume grain export to help Africa ensure its food security.
At the same time, the Foreign Ministry spokesperson noted that one important point should be absolutely clear: Africa is facing a surge in food prices and a potential famine because Russia invaded Ukraine. The Russian army is destroying critical agricultural infrastructure, blocking Ukraine's sea ports and grain terminals, and launching missile attacks on Ukraine's southern agricultural regions. Russia also steals grain from the Ukrainian territories it has seized by force.
"In that context, it is frustrating to hear that Ukraine must do something while Russia is not condemned and called to end its devastating war. We have learned the lesson that President Putin's words cannot be trusted," Nikolenko said.
He recalled that the Kremlin leader and his officials stated publicly on countless occasions before February 24 that Russia will not invade Ukraine. They did invade. The Russian military leadership promised that their army would not attack civilian infrastructure and civilian populations. Right now they are destroying cities and villages, turning them into nothing but rubble and scorched earth. The civilian death toll has already reached thousands. Some 20% of Ukrainian territory is currently illegally occupied by Russia.
"For this reason, the legitimate security concerns of Ukraine must be respected. Ukraine has proposed a three-point plan that will enable the unblocking of its seaports in order to resume grain exports: Russia must withdraw its naval forces in the Black Sea and the Sea of Azov, military equipment must be provided to protect Ukraine's southern coastline in case Russia decides to take advantage of the demining, and an international navy mission must be launched to patrol the export routes," Nikolenko said.
As reported, Russia has blocked all ports and trade routes through which Ukrainian grain is exported worldwide. About 20 million tonnes of grain remain blocked in Ukraine.
Senegalese President Macky Sall, who is also the chairperson of the African Union, visited Moscow on June 2.