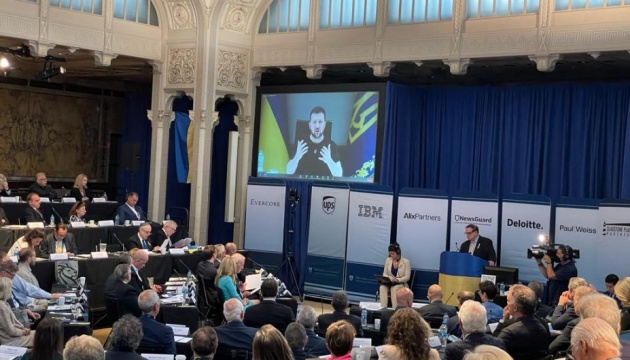 Zelensky calls on foreign companies to leave Russia and enter Ukraine
Ukrainian President Volodymyr Zelensky has called on foreign business to stop working in Russia and not to finance the war against Ukraine with their taxes.
He stated this in his conversation with corporate leaders at the Yale CEO Summit, Ukrinform reports.
"Companies that are on the market in the Russian Federation must go. If possible, they must go for good. The most important thing for us is not even that they will leave the Russian market, but that they will not use their taxes in their [Russian] system to finance the weapons with which they [Russians] kill us," Zelensky stressed.
At the same time, he noted that he would like companies not only to leave the Russian market, but also to enter the Ukrainian market.
According to him, the issue of creating new jobs that these companies can provide is very important for Ukraine now.
Zelensky said that the Ukrainian side invites companies to work in various areas - from digitalization to renewable energy - and is ready to discuss conditions.
At the same time, he said that Ukraine can provide comfortable and transparent working conditions, quick management to start a business, adding that the minimum tax system is not yet possible, given the scale of the destruction caused by the Russian invasion of Ukraine.
Photo: President's Office